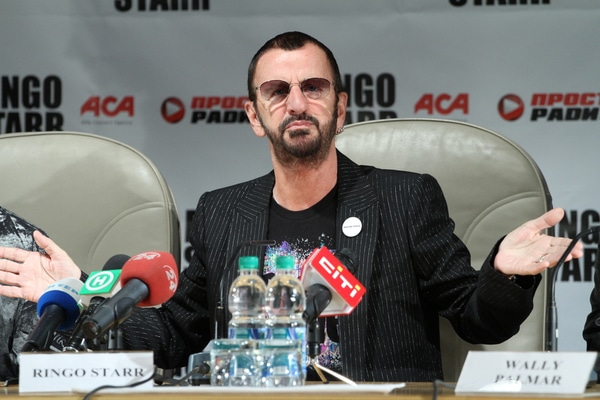 Ringo Starr has recalled drumming with the late Charlie Watts and John Bonham in his attic. He said it makes him wish that TikTok existed in the 1970s, adding that it "would have gone worldwide".
Speaking at a press conference for his latest EP "Change The World", Starr remembered the three drummers sharing this jam session.
"I had a drum kit up in the attic – it was like a cinema attic, music, whatever you want to do up there. Charlie came, and so did John Bonham", he said. "We've got three drummers, just hanging out".
"hopping away from him"
"Bonham got on the kit", Ringo Starr said regarding the late Led Zeppelin drummer.
"But because it was just like … you know, it's not like onstage, where you nail them down, so they're steady. It was just, like, there. So as he was playing, the bass drum was hopping away from him", he added.
He continued, "You think, 'Ah, man! That would have been a great little video, a TikTok or a photo that would have gone worldwide!".
"But in the '70s, I had parties, and you'll never find any photos because I wouldn't let you take photos, you know, in my house. But I always think, That would have been a great shot to have".
Ringo Starr is to also feature in Peter Jackson's upcoming documentary about the band's final months together. More on that here.
Watts was a "Beautiful human being" – Starr
During the same press conference, Starr paid tribute to the late Charlie Watts, labelling the late Rolling Stones drummer a "beautiful human being".
Following Watts' death, Starr also tweeted this, "#God bless Charlie Watts we're going to miss you man peace and love to the family Ringo".
Watts passed away aged 80 last month, and the rest of his bandmates Mick Jagger and Keith Richards paid tribute to Watts during the opening night of their No Filter Tour in St Louis on Sunday (September 26).
"This is our first-ever tour we've ever done without him. We'll miss Charlie so much, on and off the stage". Mick Jagger told the audience. More on that here.