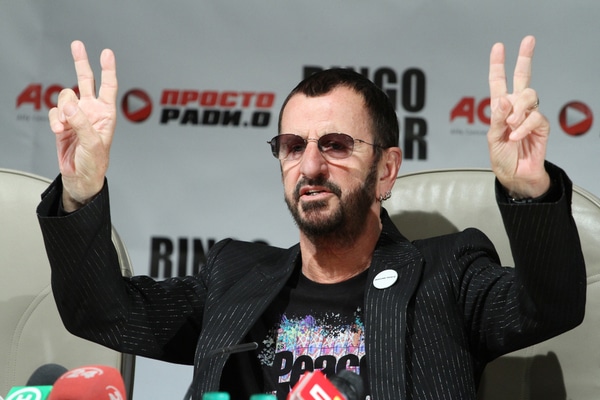 The former Beatles drummer has shared a video of the celebrations for his recent 81st birthday.
Starr turned 81 on July 7th and continued his annual tradition of using the occasion to spread "peace and love" around the world.
The tradition began in 2008 when a journalist asked Starr what he would like for his 68th birthday. "Peace and love" was the drummer's reply. Every year since, Starr has asked his fans to share messages of peace and love at noon on July 7th with the hashtag #peaceandlove on social media. Doing so will "fulfil his birthday wish and encircle the planet in a wave of peace and love," according to Starr.
Last month Starr released a video message encouraging his fans to once again join him in his annual celebration.
"I'm inviting everyone who wants to join the peace and love celebration for my birthday at noon your time wherever you are, 7-7-21," he said on June 28th. "You can post it, you can say it, you can even think it – but it would be really cool if you go 'Peace and Love' at noon on my birthday – so let's spread peace and love on my birthday – c'mon everybody!"
In 2008 Starr established an annual tradition of meeting up with fans on his birthday. On that occasion he joined fans at Chicago's Hard Rock Café, passing out cupcakes to those gathered.
Last year the pandemic forced Starr to move the celebration online. He hosted 'Ringo's Big Birthday Show', featuring unseen concert and unique performances by Starr, Paul McCartney, Joe Walsh, Ben Harper and Dave Grohl, Sheryl Crow, Gary Clark Jr, Sheila E, and more.
This year Starr was joined for his traditional noon "Peace and Love" gesture by his wife Barbara Bach, Eagles guitarist Joe Walsh, Toto guitarist Steve Lukather, and various family and friends.
Starr received birthday greetings from NASA's social media accounts, including that of the Mars Rover.
"Today in history a Starr was born. Wishing Ringo Starr peace and love and a happy 81st orbit around the Sun," NASA wrote on their official Twitter account.
The Mars Rover account wrote "I'd like to be in a galaxy, in a planet's Starr-filled garden out in space," in a play on The Beatles' song Octopus's Garden. "From Mars all the way back to Earth, here's to a birthday full of peace and love for the one and only Ringo Starr!" the message continued.
Via video, Starr received group messages of peace and love from fan groups around the world.
You can watch the video below.