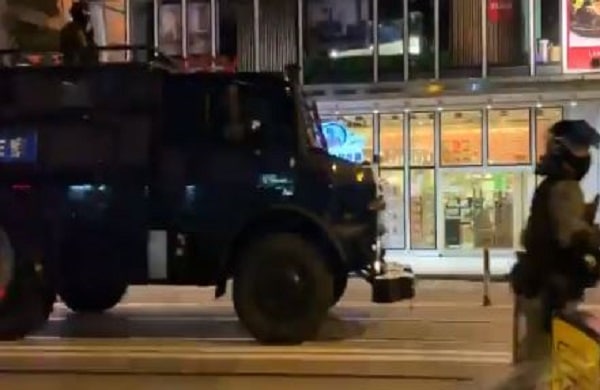 Riot police have stormed several shopping malls in Hong Kong as violent anti-government demonstrations continue.
The BBC is reporting at least four people have been injured in a knife attack at the site of one of the latest protests in the territory.
Protesters have been targeting Chinese banks and businesses perceived to have links with Beijing as anger grows over what protesters say are infringements on freedoms guaranteed when Britain returned Hong Kong to China in 1997.
Video captured a group of masked rioters trying to break into a branch of Bank of China on Causeway Bay in #HongKong SAR on November 2. pic.twitter.com/U8FA4ptOq3

— CGTN (@CGTNOfficial) November 3, 2019
Yesterday was one of the most violent days of the protests.
Xinhua, a Chinese news agency offices were vandalised, while activists also hurled petrol bombs and set fire to metro stations.
Xinhua News Agency's office in #HongKong suffered an arson attack on Saturday afternoon. pic.twitter.com/kkFUEYNdKJ

— Global Times (@globaltimesnews) November 2, 2019
Just another Saturday evening in #HongKong. pic.twitter.com/luUmObjE2V

— Rachel Cheung (@rachel_cheung1) November 2, 2019

So far more than 200 people have been arrested in the 22nd weekend of anti-government demonstrations.
Riot police fired tear gas in Tai Koo before boarding their vehicles to leave at 10pm.

Photo: Stand News. #hongkong pic.twitter.com/BL6NefunBp

— Hong Kong Free Press (@HongKongFP) November 3, 2019
More protests had being planned in seven districts today but riot-police have thwarted some of those attempts already storming a number of shopping malls in the region.