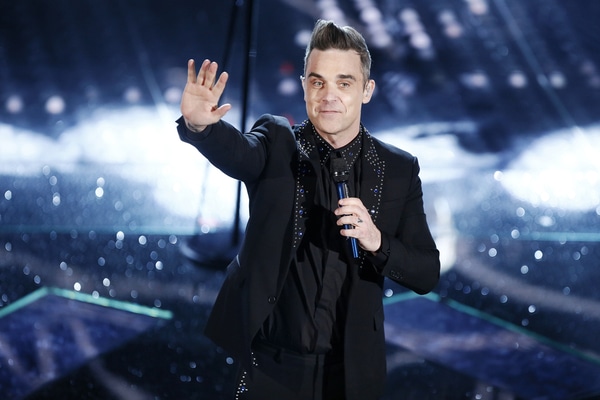 Robbie Williams has shared a mash up with Ludwig Van Beethoven.
This mash up will come from William's 1997 hit 'Angels' and Van Beethoven's 'Unfinished 10th Symphony'. It was due to showcased yesterday, (February 28) at the Mobile World Congress in Barcelona.
However, this performance was cancelled "due to the current political situation" regarding Russia's invasion of Ukraine.
This track also shows Deutsche Telekom collaborate with Williams. They assist him with the classical music which is performed by Artificial Intelligence.
"We're particularly excited to explore the possibilities of AI and creativity together with Robbie Williams on one of the best songs in pop history", Deutche Telekom's Claudia Nemet said.
"A very special place in my heart"
Releasing a statement, Robbie Williams said this of the track.
"'Angels' obviously has a very special place in my heart", he said. "I'm looking forward to the preview of this interesting version. For me, it's fascinating how much technology is now enabling art". 
Speaking of 'Angels', Irish songwriter Ray Heffernan blasted Robbie Williams for labelling him a "fantasist". Heffernan had co-authored the smash hit with the former Take That singer.
Heffernan had claimed that he met Williams in a Dublin pub back in 1996, where they subsequently wrote the iconic song together.
Williams had previously said, "I thought I'd better get down to it, figure out my voice, and whether I can actually do this. I was at my sister's house in the garden with a pen and a paper and I thought, right then, I'd better come up with something..(so I wrote) 'I sit and wait".
"How can Robbie Williams call me a fantasist?", was Heffernan's response. "I have always maintained that as a young man, I wrote a song with Robbie, that went on to become his hit song 'Angels'. My story of how that came about has never changed".
He also asked the question, "My question is what part of this am I making up?".
Last August, Robbie Williams had also reissued his two multi-million selling solo records  'I've Been Expecting You' and 'Life Thru A Lens' on a vinyl special edition.