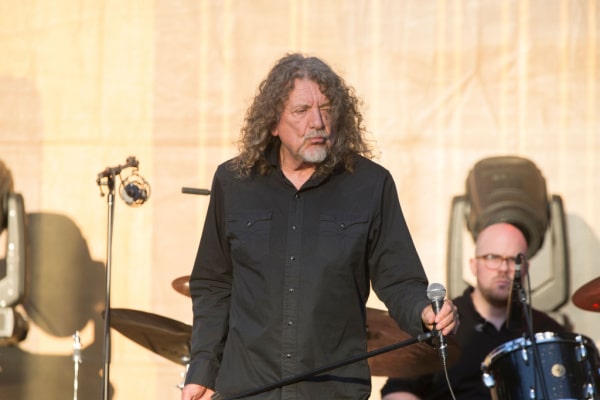 Robert Plant has once again stated that he has little or no interest in rejoining Led Zeppelin.
The former Led Zeppelin lead singer made these comments during a recent interview, publicising his current tour of North America with Alison Krauss.
Led Zeppelin were initially disbanded in 1980, following the tragic death of drummer Jon Bonham. Plant left the band following this.
Alison Krauss featured on Led Zeppelin's album 'Diamond Star Halos', released earlier this year.
"stimulated"
Speaking in this fresh interview, Robert Plant was asked if his singing voice had changed over time.
"I know that the full, open-throated falsetto that I was able to concoct in 1968 carried me through until I was tired of it", Plant said.
"Then that sort of exaggerated personality of vocal performance morphed and went somewhere else". 
He continued, "But as a matter of fact, I was playing in Reykjavík, in Iceland, about three years ago, just before COVID. It was Midsummer Night and there was a festival, and I got my band and I said, 'OK, let's do Immigrant Song.' They'd never done it before. We just hit it, and bang – there it was. I thought, 'Oh, I didn't think I could still do that'".
When asked if he could return to Led Zeppelin with this new singing voice, Robert Plant issued this response.
"Going back to the font to get some kind of massive applause – it doesn't really satisfy my need to be stimulated", he insisted.
"just go out and sing"
Robert Plant is not so keen on the vocal warm-up routine of Def Leppard's frontman Joe Elliott.
"I just go out and sing", Plant revealed.
"I know a guy from a famous band that Alison's quite friendly with – he's gonna pour some sugar on me or something – who creates a complete hullabaloo backstage. I was back there one time and he was making such a bloody noise. I said, 'Why are you doing that?' He said, 'I'm warming up.' I said, 'Well, you won't have anything left by the time you get there". 
Robert Plant also spoked about his relationship with Alison Krauss outside music, the difference between British and American musicians, along with the decrease in number of rock pioneers at present.
Last year, Plant had called the lawsuit over Led Zeppelin's Stairway To Heaven track "unpleasant".
It was launched by the trustee for late Spirit guitarist Randy California's estate, Michael Skidmore. Skidmore had claimed that the track had violated Spirit's 1968 track 'Taurus'.
Having seen three legal attempts go in Led Zeppelin's favour, the lawsuit was eventually dropped in 2020.
Plant said, "What can you do? I just had to sit there, I was instructed to sit directly opposite the jury, don't look at them but just don't look at anybody, just sit there for eight hours. As much as I am musical, I cannot comment on anything musical. I just sing". 
Robert Plant also fronts the band Saving Grace alongside Suzi Dhian. See their tour dates below. 
Oct 25: Belfast Ulster Hall, Northern Ireland
Oct 27: CorkEveryman Theatre, Ireland
Oct 28: Galway Town Hall Theatre, Ireland
Oct 30: Sligo Knocknarea Arena, Ireland
Oct 31: Dublin 3Olympia Theatre, Ireland
Nov 05: Edinburgh The Queens Hall, Scotland
Nov 06: Glasgow King's Theatre, Scotland
Nov 08: Aberdeen Tivoli Theatre, Scotland
Nov 09: Perth Concert Hall, Scotland