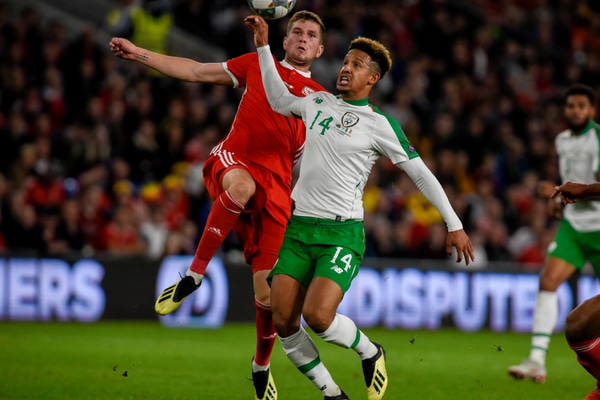 Republic of Ireland international, Callum Robinson admits it is "obviously annoying" to have caught COVID-19 twice, yet the footballer remains unvaccinated. As with every other person on the planet, it is his choice to get the double-injections, or not. However, the forward has already missed game time due to being a close contact for the coronavirus, much to the anguish of fans.
The 26-year-old West Bromwich striker was forced to miss last month's World Cup qualifiers against Portugal, Azerbaijan, and Serbia, following a positive result. Although, Robinson is now back to face Azerbaijan, he has spoken on his decision to remain unvaccinated, a decision he could change "in time".
When reporters quizzed Robinson if he had been vaccinated, the forward replied: "I haven't been vaccinated, no. That's my choice at this moment in time. It's obviously annoying that I've caught it twice, but I haven't been vaccinated. Further down the line I could change my mind and want to do it, but at this moment in time I haven't been vaccinated, no.
"I just haven't, I just haven't done it," Robinson replied when asked why. "I think it's your personal choice and my choice at this moment in time, I haven't been vaccinated. I know, as you said, there are managers and people that will want you to do it, which is right in their way, the way they think, but everyone has their choice on what they want to do. I wouldn't force people to do it, it's your choice and your body."
Although Robinson remains unvaccinated, the player continues to be tested regularly along with his team-mates, who some are also unvaccinated. Republic of Ireland manager, Stephen Kenny has seen his team repeatedly disrupted with cases of coronavirus and confirmed several players are in the same situation.
Discussing the option of leaving out players in Robinson's situation, Kenny said, "Well, I think it would be quite a radical viewpoint to just say, 'Right, whoever is not vaccinated is not being selected in the future'. I'm not aware of anybody who has done this in any sport at the moment, so for me to just come and decide that would be extremely radical. I was very happy to be (vaccinated) myself and encouraged staff and players. Of course it seems like the most sensible thing to do, and the safest with regard to our environment. There are a lot of myths and a lot of issues around virility that people are concerned about and other issues, you know, and I do think it is complex. I am not a medical expert, but I do trust the experts and I do think it is better to be double-vaccinated."