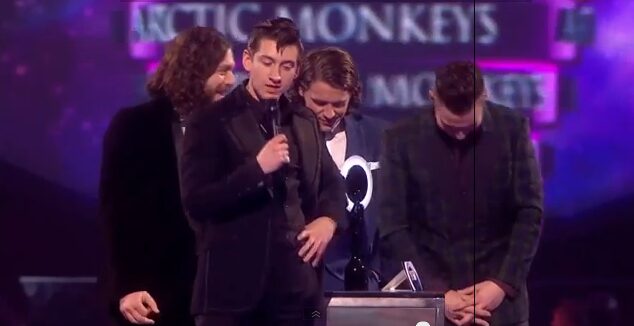 Arctic Monkeys frontman Alex Turner has used his acceptance speech as a platform of the Brit Awards to let his fans know:
"Rock and Roll will never die"
The Arctic Monkeys took home two awards from this years Brit Awards which were held in London's O2 Arena. They won Gongs for best British group and Best British album.
When accepting their first award turner said:
"There's that 15 quid we put on One Direction to win down the drain,"
While picking their award for best British album "AM" (Incredibly well deserved) he said:
"That rock 'n'roll, eh? That rock'n'roll, it just won't go away. It might hibernate from time to time, sink back into the swamp. I think the cyclical nature of the universe in which it exists demands that acquiesce to some of its rules".
"But it's always waiting there, just around the corner," he added. "Ready to make its way back through the sludge and smash through the glass ceiling, looking better than ever. Yeah, that rock'n'roll, it seems like it's faded away sometimes, but it will never die. And there's nothing you can do about it." He then asked the orgainsers to invoice him for microphone before dropping it on the floor.
Arctic Monkeys had kicked off the ceremony by performing their single 'R U Mine?' during the performance pyrotechnics spelled out the initials 'AM'.
See the acceptance speech here