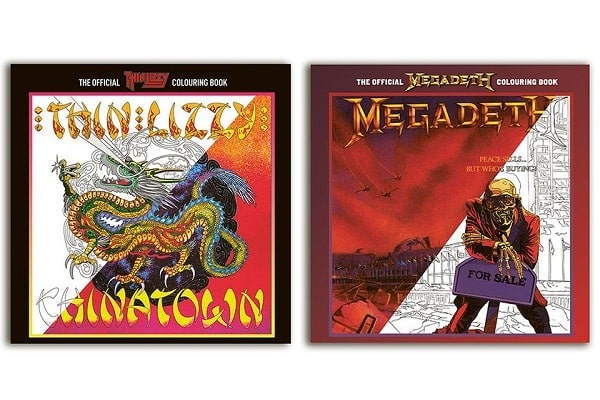 Eyesore Merch have announced their upcoming titles from their Rock N' Roll Colouring series, following on from last year's success. The UK based merch company released Motörhead and Judas Priest colouring books and are now set to release Thin Lizzy and Megadeth.
The new additions come from two titans of classic rock and thrash metal, with both bands renowned for the iconic artwork designs. For the first time, fans of colour and rock can enjoy officially endorsed colouring books from Thin Lizzy and Megadeth.
The books are printed on high quality square paper and feature iconic illustrations that are synonymous with the legendary rock bands. Megadeth's colouring book features 1986 album, Peace Sells… But Who's Buying?, 1990 masterpiece Rust In Peace, their beloved mascot Vic Rattlehead, and much more. The Thin Lizzy issue is set to feature their 1976 opus Jailbreak, 1980's Chinatown and loads of other imagery.
Created by two lifelong rock and metal fans, the colouring books go on sale from April 26th, costing £12.99 (€15.03). Pre-order them here. Rock N' Roll Colouring said each book allows you to "raise the horns in celebration of 2 legendary bands letting your imagination run riot as you create your own personalised versions of your favourite designs. Each book contains painstakingly created renderings of each image with detailed outlines ready for you to unleash your artistic skills using pens, pencils or paint".
They added that colouring has proven significant mental health benefits including "mindfulness, relaxation and increased focus and can be enjoyed by any age group". The books will provide hours of "creative and restful activity that combines the love of the music with the love of the art".
Another recent study had suggested that listening to heavy metal might actually be good for you. It found that listening to heavy metal decreases anxiety, blood pressure and heart rate. Why don't you order these books and check out Radio Nova's Spotify playlist, The Top 10 Greatest Guitar Solos Of All Time, and have a relaxing time colouring in logos of your favourite rock bands.