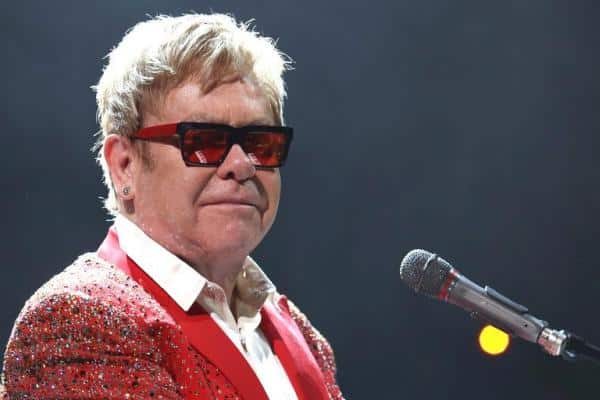 Elton John has announced a Dublin date as part of his last-ever tour. He'll play the 3Arena on June 12th 2019 as part of the 'Farewell Yellow Brick Road Tour'.
It'll see the musician play more than 300 dates over a three year period. The 70-year-old earlier said his priorities have changed, and that he now wants to focus on his children and family.
The 70-year-old singer made the announcement at a press conference, which took place simultaneously in New York and London.
The announcement began with an animated montage of John's accomplishments, to the soundtrack of hits like 'Rocket Man' and 'Goodbye Yellow Brick Road'. The video showed signs representing his different projects, like his Las Vegas residency, 'Aida' and 'Gnomeo and Juliet'.
Later, the video showed John performing 'Tiny Dancer' and 'I'm Still Standing' live from New York. Afterward, John sat with Anderson Cooper on stage, who asked him about his big announcement. The singer responded that the upcoming tour that kicks off in September will be his last.
"It'll be a global tour," he said. "It is the last time that I'll be touring and travelling the world because my priorities have changed… I have children and that changed our lives."
John said that in 2015, he and husband David Furnish sat down with their children's school schedules and made the decision for John to stop touring.
"I've had an amazing life, amazing career," said John. "My priorities now are my children, my husband and my family and I've been touring since I was 17 with various bands, then as Elton John in 1969 and I thought the time was right to say thank you to all my friends around the world globally and then to say goodbye and just to have a breather."
John made it clear his final tour, which will be called the 'Farewell Yellow Brick Road' tour, does not mean he's retiring. "That doesn't mean I'm still not going to be creative, but I'm not going to travel anymore," he said. John said he plans to still record and write music.
The tour will end in 2021 and have 300 dates, said John. It kicks off in Allentown, Pennsylvania. The singer disputed reports that he's in poor health.
He talked about a bacterial infection he contracted during his South American tour last year. He said: "I was very ill for seven weeks and it knocked me sideways, but I still did 96 shows, I always thought I'd be like Ray Charles or B.B. King and tour forever, but once our life changes, you have the children, it changes your life so much."
"It's a way of going out with a bang," he said. "I don't want to go out with a whimper … I want to leave people thinking, 'God, I saw the last tour and it was fantastic.'"