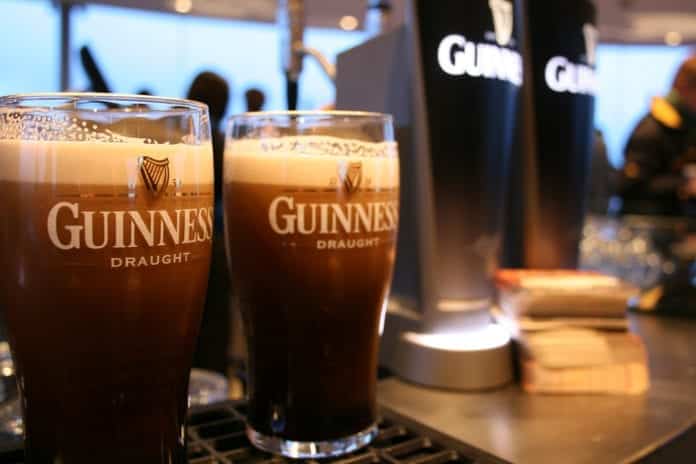 Two Pint's by Roddy Doyle is going on tour with The Abbey Theatre this July. The show, directed by Caitriona McLaughlin will premiere in The Foxhound Inn on the 11th of July in Kilbarrack just before the national tour kicks off at The Village Inn in Kilkenny.
The two characters in the play were brought to life after a hilarious conversation on Facebook inspired Doyle. The play has been specially produced to be performed in local Irish pubs, inviting the audience to pull up a stool and listen in.
Roddy Doyle said of the play: 'When I wrote Two Pints, I didn't envisage it being performed in a pub, but it is part of the adventure. This new play is being put on in a context that is unfamiliar to me – that excites me.'
Starring Liam Carney and Lorcan Cranitch, two men sit down for a pint and have a chat about death, Nigella, North Korea, their Da's and the afterlife..
Richard the Third.
Who was he?
The king of England.
Wha' happened the fuckin' Queen?
Before her.
He was her da?
I think so, yeah. Grandda maybe. Anyway, they found him.
Directors of the Abbey Theatre, Graham McLaren and Neil Murray said 'We want the Abbey Theatre, our national theatre, and its audience to be reflective of Ireland. To us, this means presenting work all over Ireland, and not necessarily in conventional spaces. Roddy's funny, touching and provocative Two Pints seemed the perfect piece to do this with this year. '
Two Pints will tour across 16 counties in July, visiting 22 pubs in total. The play can also be seen as part of the Galway International Arts Festival, but most of these dates are sold out. There are still tickets available for the play at Tigh Joe Mac's Bar, Kilronan, Inis Mór, Aran Islands on Moday 24th July at 2pm. (Inis Mór is accessible via plane or ferry.)
Tickets for the tour went on sale yesterday – which is heading to pubs across the country over the month of July. Be quick ordering as many dates have already sold out!
VENUES
6-8 July – The Flowing Tide, 9 Lower Abbey Street, Dublin 1 (Previews)
10 July – The Horse and Hound, Delgany, Wicklow
11 July – The Foxhound Inn, Greendale Road, Kilbarrack, Dublin 5 (Premiere)
12 July – The Village Inn, Deansground, Kilkenny (National tour launch)
13 July – Downes, 10 Thomas Street, Waterford
14 July – Mannions Pub, Mount Elliot, New Ross, Wexford
17 July – Caseys, Monteensudder, Glengarriff, Cork
18 July – Paidí Ó'Sé's, Ventry, Dingly, Kerry
19 July – Dolans Warehouse, 4 Dock Road, Limerick
20 July – Fanny O'Dea's, Ennis, Clare
21 July – Kennedys, Puckaun, Tipperary
24-29 July – Galway International Arts Festival (On sale 19 June at giaf.ie)
1 August – Nevins NewField Inn, Mayo
2 August – Tricky McGarrigals, 11/12 O'Connell Street, Abbeyquarter North, Sligo
3 August – Cryans Bar, On the Quay, Carrick on Shannon, Leitrim
4 August – Blakes The Hollow, 6 Church Street, Eniskillen, Fermanagh
5 August – Simpsons Bar and Restaurant, Tulnaree, Carndonagh, Inishowen, Donegal
Supported by Guinness, Friends First and the Vintner's Federation of Ireland, tickets can be bought at abbeytheatre.ie/2017/two-pints. Over 18s only.
Photo Credit: J. Griffin Stewart