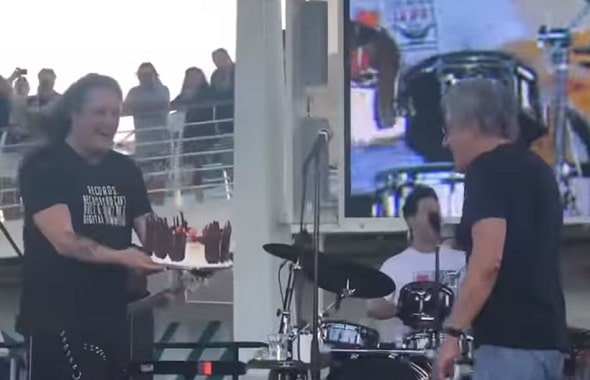 Roger Daltrey celebrated his 76th birthday last weekend that was on board the Rock Legends Cruise VIII.
The Cruise is a floating music festival that features legends of the rock world and it supports the Native American Heritage Association.
Daltrey decided to embrace the festivities by taking his birthday cake and planting it right into former Skid Row frontman Sebastian Bach's face!
According to UCR, Bach presented Daltrey with a birthday cake, and when Daltrey saw it he responded, "Cakes and the Who are very dangerous."
Bach began rousing the crowd to sing "Happy Birthday," but barely through the second line of the song, Daltrey mashed the cake it into Bach's face! Bach said,
"I'm so glad I took a shower. If you weren't Roger Daltrey, this would be a different situation. Do we love this man or what? Let's wish him a happy birthday."
Looking at the cake carnage on the floor, Bach added, "Oh, my god, what a disaster. I didn't do it. It wasn't me!" A rather amused Daltrey went on the defensive saying,
"I did try and warn him. Yes, the Who and cakes, or anything to do with the Who and cakes, do not mix. It's a good job Keith [Moon] isn't here as well, because we'd all be covered in cake."
He then thanked Bach for the gesture and for being such a good sport. Check out the video below: