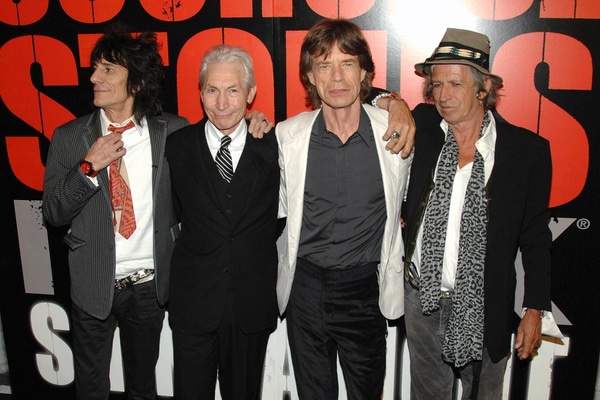 Founding members of the Rolling Stones, Mick Jagger and Keith Richards have paid tributes to the late Charlie Watts. The drummer passed away yesterday aged 80.
Watts had previously confirmed that he was pulling out of the Rolling Stones' "No Filter" Tour, due to an ongoing medical procedure. More on this here.
In a statement paying tribute to Watts, his band and spokesperson called him "a cherished husband, father and grandfather and also, as a member of The Rolling Stones, one of the greatest drummers of his generation".
They also added, "It is with immense sadness that we announce the death of our beloved Charlie Watts. He passed away peacefully in a London hospital earlier today surrounded by his family".
"We kindly request that the privacy of his family, band members and close friends is respected at this difficult time", they added.
Richards and Jagger pay tribute to Watts
Keith Richards shared a photo of Watts in his drum kit, seemingly from their rehearsals for their 2021 tour, with a "Closed, Please Call Again" sign hanging from a stand. Check it out here.
Jagger also shared a photo of Charlie Watts behind his drum kit, smiling. See here.
The band's Ronnie Wood was next to pay tribute to Watts.
"I love you my fellow Gemini ~ I will dearly miss you ~ you are the best", Wood wrote.
Other stars to pay tribute to Watts, including the Beatles' icon Paul McCartney.
"So sad to hear about Charlie Watts – Stones drummer – dying", he wrote.
"He was a lovely guy. I knew he was ill, but I didn't know he was this ill, so lots of love to his family, his wife and kids and his extended family, and condolences to the Stones. It'll be a huge blow to them because Charlie was a rock, and a fantastic drummer, steady as a rock", he wrote.
"Love you Charlie, I've always loved you. Beautiful man, and great condolences and sympathies to his family". 
Another Beatles star Ringo Starr also added, "God bless Charlie Watts, we're going to miss you man, peace and love to the family, Ringo".