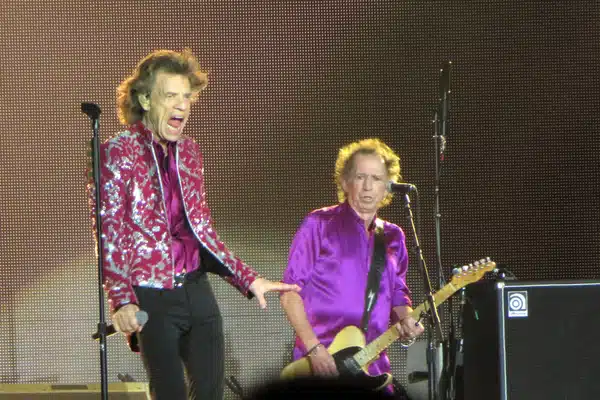 Having teased a major announcement via social media, Rolling Stones have announced the re-release of their live albim 'Licked Live In NYC".
Arriving on June 10, this album will be released on DVD+2CD, SD Blu-ray+2CD, as well as a standalone 2CD and 3LP.
Presented by Mercury Studios, this Rolling Stones album has been fully restored and remastered. It also includes hits 'Tumbling Dice', 'Sympathy For The Devil", 'Gimme Shelter' and 'Start Me Up'. It had been originally released in 2003 as a HBO special.
Along with their NYC performance, this reissue will also feature bonus concerts from Amsterdam. Rehearsal footage will also give insiders a view of the Rolling Stones preparing for this tour.
The special 51 minute documentary Tip Of The Tongue which captures the band's preparation for this tour is also included. It will also provide an insight into the Rolling Stones' innovative three show/three venue approach.
Coming soon! Licked Live In NYC features the Stone's 2003 performance at @TheGarden during their 40th anniversary world tour, ft previously unreleased performances..
 
Out 10th June!
 
Order: https://t.co/CughfLd4v0 pic.twitter.com/csH8W0K8j2

— The Rolling Stones (@RollingStones) April 13, 2022
It will also show fans of the Stones preparing for this tour from their recording studio in Paris and the rehearsals in Toronto.
Check out the trailer for yourselves below.
Rolling Stones Live Licks Tour 
In 1964, the Rolling Stones embarked on this 'Live Licks Tour' in New York, following the release of their debut album.
To mark 40 years since that tour, the band once again performed in the Big Apple in 2003, in Madison Square Garden.
This tour of course saw the Stones' line up of Mick Jagger, Keith Richards, Darryl Jones, alongside the late Charlie Watts.
It also featured Lisa Fischer (backing vocals), Bobby Keys (saxophone), Tim Ries (saxophone, keyboards), Michael Davis (trombone) Blondie Chaplin (backing vocals, acoustic guitar/ percussion), Chuck Leavell (keyboards, backing vocals), and Kent Smith (trumpet).
This tour also saw the Rolling Stones perform tracks 'Midnight Rambler', 'It's Only Rock 'n' Roll (But I Like It)', 'Angie'. Sheryl Crow also joined the band on stage for a rendition of 'Honky Tonk Women'.
You can order this reissue here.