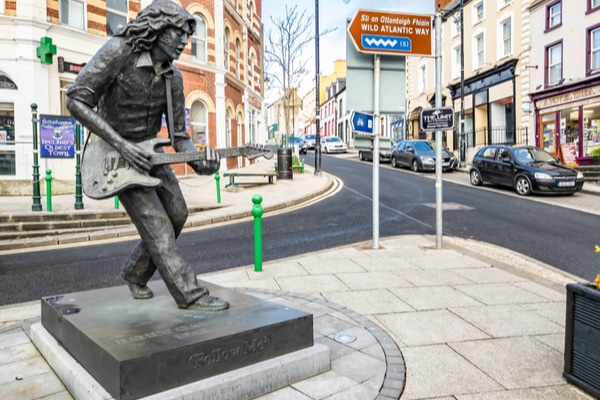 26 years ago, today, Irish guitar god Rory Gallagher died from complications with a liver transplant at London's King's College Hospital. Looking back at the Donegal-born rocker's life, its easy to see people's admiration for the Bullfrog Blues musician.
The Irish blues man devoted his life to touring and playing his beloved worn sunburst 1961 Stratocaster to adoring audiences. Rory never stopped working, and could always command a crowd, although his stardom would eventually be his demise.
Billed as a musician with maximum music and minimum fuss, Rory garnered a dedicated following when Taste first burst on to the British rock scene in the late sixties. During a time when the scene was dominated by guitar gurus, Eric Clapton and Jeff Beck, the Donegal blues man offered a passionate dedication in his playing.
Hailed as one of the best power rock blues bands of the day, Taste supported Cream at their 1968 farewell concert in the Royal Albert Hall. After the band's split in '71, Gallagher formed a band under his own name with Wilgar Campbell on drums and Gerry McAvoy on bass. The Gallagher band released a succession of albums and among the most successful were 1971's Rory Gallagher, 1971's Deuce, and Live in Europe 1972.
"Rory was one of the hardest working musicians around," Melody Maker journalist, Roy Hollingworth remembers. "The biggest shame about him was that he never really made it in the United States; yet he was one of the best blues guitar players. He had true grit . . . that Irish soul to his playing that the British blues guitarists never had."
Later in life, it is said Rory had developed a phobia of flying and was prescribed various drugs to overcome his angst. At his final performance on January 10th, 1995, the guitarist was visibly ill and suffered from severe abdominal pain, leading the tour to be cancelled. For his pain, Gallagher was prescribed paracetamol, which can be extremely harmful to the liver, especially for a heavy drinker like the blues god.
Upon omission to London's King's College Hospital in March 1995, the extent to Rory's condition became more apparent. The musician's liver was failing, leaving doctors to suggest a liver transplant was necessary for the young guitarist.
Following thirteen weeks in intensive care, Rory's health suddenly worsened while waiting to be transferred to a convalescent home. The guitarist had contracted a staphylococcal (MRSA) infection, killing him on June 14th, 1995, leaving no spouse or children.
Rory Gallagher was laid to rest in St Oliver's Cemetery, Cork, close to where the musician grew up. The grave's headstone is in the image of an award he received in 1972 for International Guitarist of the Year. The singer/songwriter touch so many hearts with his beloved blues rock, and perhaps inspiring many others to conquer their emotions through personally styled music.
Rory has forever been admired by many, with so many amazing stories about the guitarist coming to light. Due to the incredible success of its first release, a book about the legendary guitarist has been re-released. In Rory Gallagher; The Man Behind the Guitar, author Julian Vignoles uses extensive interviews to cast new light on what inspired Gallagher, and on the complex personality that drove his career. Read more about the re-release here.