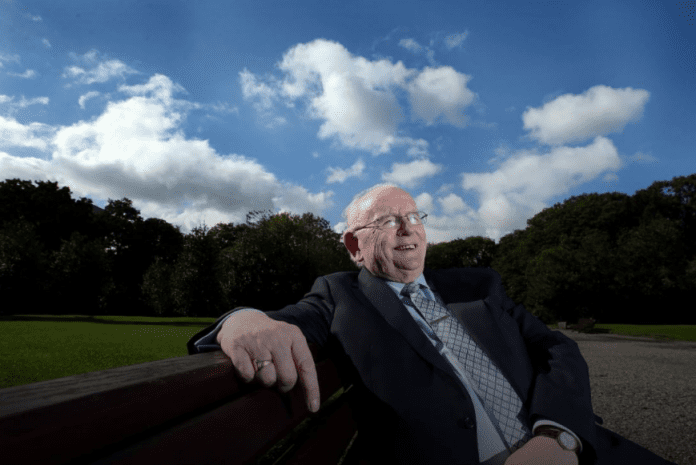 Well-known journalist and former RTÉ sports commentator Jimmy Magee has passed away at the age of 82. His passing comes after being ill for some time.
Famously known as 'the memory man' Jimmy grew up in Co Louth, despite being born in New York. He joined RTE as a broadcaster in 1956 as a reporter on the RTÉ Radio Programme "Junior Sports Magazine", which was broadcast on a Saturday and covered athletics, hockey and rugby.
He also covered a broad range of sports for RTÉ, including EVERY Olympic games between the years of 1972 and 2012. In 1966, Jimmy covered his very first World Cup for Radio, won by host nation England. More recently, he commentated on Katie Taylor's gold medal victory in the 2012 Olympic Games.
It was at this Olympic Games that Magee was acknowledged by the International Olympic Committee for his 'outstanding contribution to sport'. He was presented with a replica of the Olympic torch.
Back home, the broadcasting legend was presented with a PPI Outstanding Achievement Award, which also marked his 50th year in broadcasting.
Tributes have flooded online sources since the news of his passing.
Magee's colleague Des Cahill added: "You mention the World Cup and the Olympics, everybody knows Jimmy's personality and warmth but to travel with him, he was unbelievable craic.
"He was kind to the youngsters coming along, he was known by the families of the sports men and women because he was a family man and a fun man.
"The big thing I remember him for was fun and it was a cheeky kind of humour. He'd set you up big time if he could and they're lovely, warm memories for me to have of Jimmy.
Head of Sport at RTÉ Ryle Nugent said of his passing: "It's an incredibly sad morning. It's hard to put it into words, the man meant an inordinate amount to so many people.
"I think he was the soundtrack to many generations that included Michael O'Hehir, Mícheál Ó Muircheartaigh, Fred Cogley and himself, they were the original commentators and the ones we looked to when there was a major sporting event.
"Jimmy holds his own with some of the most iconic memories in broadcasting in sport in this country and rightly so.
"He was an incredibly positive human being, I never heard Jimmy start a conversation in the negative and he took that into his professional life."
Photo Credit: RTÉ Via Twitter