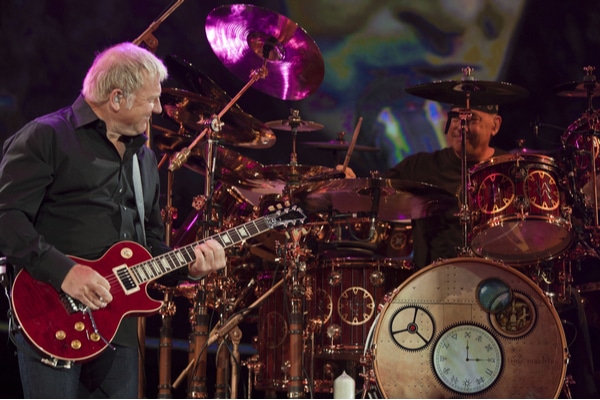 Rush have announced a special album reissue, celebrating the 40th anniversary edition of their eight studio album Moving Pictures, Moving Pictures-40th Anniversary. 
The original album had helped Rush to move from the longer form music, to 70s releases. It also worked in moving to a progressive 1980s sound.
This is a boxset which will contain three CDs and five high-quality 180 gram black vinyl CDs. It will also contain one blue-ray Audio disc.
The set will also contain two discs of unreleased and newly restored bonus live content. This content is newly mixed from the original Rush producer Terry Brown. The material covers the Rush concert from Toronto at Maple Leaf Gardens from March 1981.
Among the highlights of the fourth blu ray bonus disc is a brand new video of YYZ, along with three remastered clips for Tom Sawyer, Limelight, and Vital Signs.
The reissue will also contain a Digital Deluxe Edition. This features the original album, along with all 19 bonus live performances from Toronto.
You can also pre order this boxset here.
Rush Guitarist And New Band
Back in January, Rush co founder Alex Lifeson had previewed his new band Envy of None, as they released their new single "Liar". 
Lifeson is joined by singer-songwriter Maiah Wynna and singer-songwriter Maiah Wynna.
At a press release, Lifeson had this to say.
"Maiah became my muse", he stated. "She was able to bring this whole new ethereal thing through her sense of melody on tracks like 'Liar' and 'Look Inside'… I've never had that kind of inspiration working with another musician. When we say she's special, it's because she's really f*cking special!". 
"I can't tell you how nervous and excited I am", Wynne said via Instagram. "The whole record is very eclectic and has such a huge variety of sounds and dimension. All I can say is I know that everyone will find a song they love on this record".