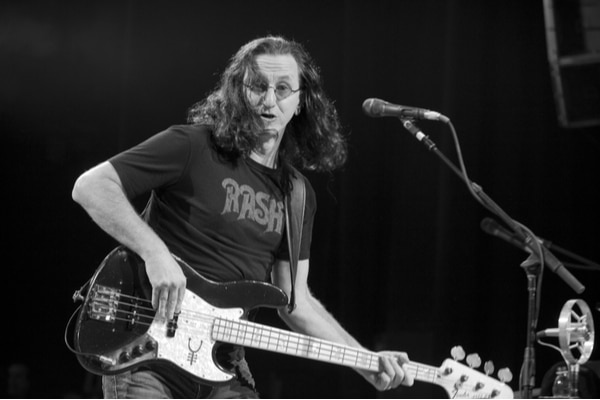 Rush have paid tribute to their 'musical brother' Taylor Hawkins.
Their band mambers Geddy Lee and Alex Lifeson paid special tribute to the late Foo Fighters drummer. Hawkins died last Saturday aged 50 in South America, where the band had been touring.
Foo Fighters confirmed this news after they realeased a statement.
"His musical spirit and infectious laughter will live on with all of us forever. Our hearts go out to his wife, children and family, and we ask that their privacy be treated with the utmost respect in this unimaginably difficult time". 
Hawkins' death led to an outpouring of grief from the music world, with musicians and artists far and wide paying tribute to him. More here.
"our musical brother"
Prog rockers Rush have now become the latest band to pay tribute to Hawkins.
Their drummer Neil Peart was a particular fan of Taylor Hawkins, who paid tribute to Peart following his death in 2020. "Neil Peart had the hands of God. End of story", Hawkins said.
And now, Rush's Alex Lifeson and Geddy Lee have paid homage to their 'musical brother'. 
"We are so very shocked and saddened to hear the devastating news of the sudden passing of our musical brother Taylor Hawkins", they said.
"He was such an incredibly positive source of music, energy and love, and a true artist to his very core…there are simply no words to adequately express just how much he will be missed by all – including Alex, myself and the entire Rush family". 
"Our hearts, love and sympathy go out to Taylor's family as well the Grohls, and the extended Foos family…", the band added.
Rush concluded the post by added: "Rest In Peace brother… Geddy and Alex". See it in full here.
Geddy Lee also paid a separate tribute to Hawkins via his own Instagram account. 
"My heart is truly breaking at the news of Taylor's passing. A sweetheart of a man that radiated good vibes, a love of music, and a total monster on the drums. He was so, so happy the night Alex and I came up onstage to play 'YYZ' with him during the Foos show at the Air Canada Centre on March 23rd, 2008… His excitement was almost impossible for him to contain. And of course, he nailed it!", Lee wrote.
"Brother, you left us way, way too soon… rest in peace my friend". 
See other tributes to Hawkins from other household names here.