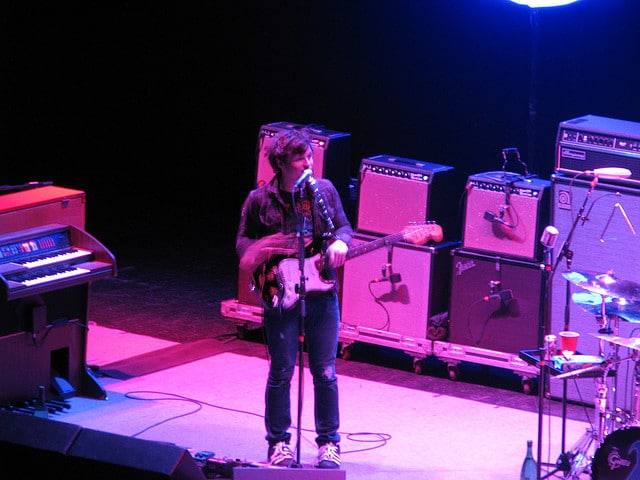 Ryan Adams has unexpectedly released a new 10 minute EP titled Jacksonville.
It is yet another 7-inch from his ongoing PAX-AM Singles Series. The three-track, 10-minute EP sees Adams meld elements of country and blues.
Despite putting out his 14th studio album earlier this month to critical acclaim, this surprise unveiling is the latest in a string of unexpected releases from the singer-songwriter, who famously has a wealth of unreleased material.
Earlier this month, he put out his fourteenth record titled Ryan Adams, his first LP in three years since Ashes & Fire in 2011.
In the intervening years since Ashes & Fire, Adams has released an Iron Maiden cover, produced a punk-rock EP for Fall Out Boy, released a punk single with side-project Pornography, put out an EP 7 Minutes In Heaven and performed with a full live band for the first time since The Cardinals disbanded.
Speaking to Gigwise, Adams said: "I love the album as a piece of art. I love the process of writing music and the consideration of how those things go together. I have an album fetish, I am an album collector. I think it's a very romantic notion to be making things like albums in this day and age. When I use the term romantic i think it is a joy of the human existence to subscribe to pleasure and to just subscribe to creating things that can feel mystical and that they're full of some sort of energy that has the ability to transform you or the people that listen to them.
The singer also put out a new 10-track 7″ vinyl that was released via his Pax-Am label. The collection entitled 1984, came out on August 19th, just weeks ahead of the release of his anticipated, self-titled new album.
The 7″ vinyl is described as 'a homage to the halcyon days of the earliest releases from US indie punk labels Dischord, SST, Touch & Go and their ilk'. 1984 is a limited edition vinyl with only 3,000 copies.
Listen to a vinyl rip of Jacksonville 7" by Ryan Adams below.
Jacksonville EP track list:
SIDE A: Jacksonville
SIDE B: I Keep Running, Walkedypants