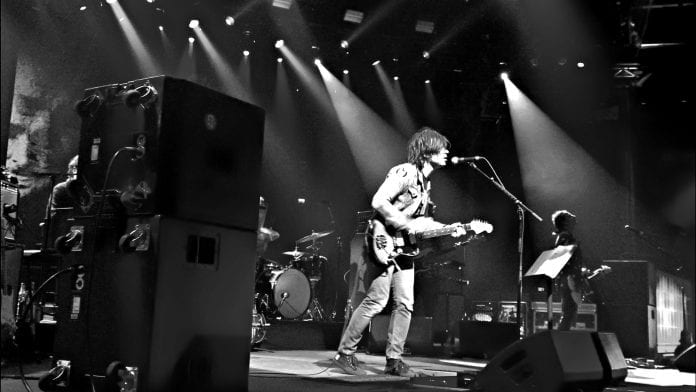 Ryan Adams has just confirmed dates for three Irish gigs this September.
Adams – who last performed in Ireland in 2015 – will play three dates in September in Dublin, Cork and Belfast.
08 SEPTEMBER – ULSTER HALL
09 SEPTEMBER – CORK OPERA HOUSE
11 SEPTEMBER – OLYMPIA THEATRE
Today also sees the release of Adam's hotly anticipated, 16th Studio Album Prisoner. Prisoner was written, recorded and produced by Ryan Adams 2014-2016. Singles 'Do You Still Love ME?' and 'To BE Without You' have already been released.
Following his headline grabbing split with American actress, Mandy Moore, many questions have been asked about the inspiration behind Prisoner.
Adams has said: "People will ask if this record is about my personal life. The answer is yes–but the answer has always been yes. I've always written from experience, as someone who's used poetic and artistic license. When has there ever been a time when I haven't been doing that? Obviously, the record is about heartbreak, but it's more than just that. These songs are about finding the true nature of desire and finding out how much more heartbreaking that is than any single event in someone's life."
The North Carolina Native is busy promoting Prisoner and recently sat down with Marc Maron for  Maron's WTF Podcast . He shared an anecdote of when he opened for the Stones and shared a joint with Keith Richards, saying: "I remember the first time I was having a conversation with [Richards], and he passed me a joint. And I remember my brain went into that freeze moment, when you're like… imagine someone, where their whole life, they loved Meryl Streep or something. And they have pictures of her on their wall, or whatever. And so they find themselves at a coffee shop, and they're behind her, and they say something. And time starts to slow down and freeze, just for the moment that their pleasant exchange happens."
"It was before I went on [stage]. It was the day, and it was a big production. And someone said 'Keith says to come down to Camp X-Ray.' That was the name of his backstage area, which is awesome. And I was like 'Yeah, right on.' I went down and said hello, and I sat down. And I remember he passed me this joint, and time just went tick, tick, tick, tick… tick…. tick…. and I looked at his fingers, and I looked at my fingers going to grab it. And in my mind I was imagining the Sistine Chapel, or whatever."
Tickets go on sale Friday, March 24 at 10am from Ticketmaster and usual outlets.
Picture Credit: Drew de F Fawkes