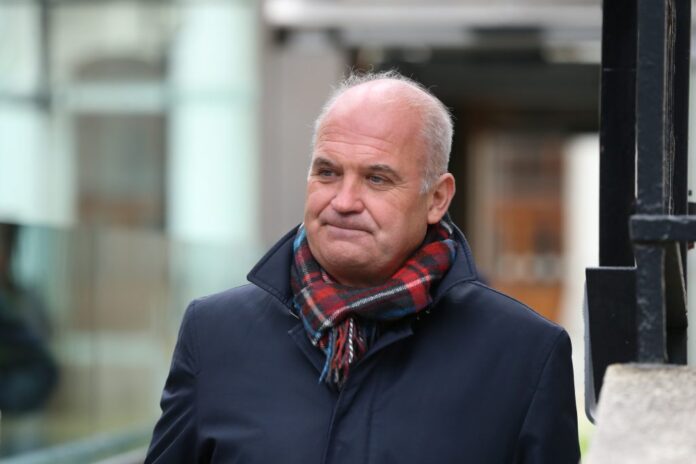 Ryan Tubridy has suggested that the Chief Medical Officer Tony Holohan take the Covid-19 Vaccine live on the Late Late Show.
Tubridy was speaking on his radio show after the US Public Poll stated that they would like to see their CMO Dr Anthony Fauci take the vaccine live on TV, to assure the public.
Tubridy, who's presentation of the Late Late Toy Show, last week raised € 6 million, anticipates that a similar such poll which took place in the US, will take place in Ireland, with Dr Holohan being the people's choice.
"A poll was done, and they asked the American people who would you like to see receive the vaccine live on television before you decide to go for it yourself; And they came back with a resounding answer, Fauci, they said we want to see Fauci get the vaccine; So, in many ways, our equivalent would be to invite Dr Tony Holohan onto the Late Late Show, and say you're our Fauci so we have to believe you if you believe it so take the vaccine on live TV; That's taking it that there's an equal poll, I'd say it would be along the same lines".
This all comes, after Ryan Tubridy said himself, that he would gladly take the Vaccine live on television, "In America, Bill Clinton, George W Bush, and Barack Obama have all offered to get the vaccine injected into them on live television; Just to take away the mystique, I've been doing the swabbing on the Late Late, and maybe that's what's going to happen when the vaccine comes in."
Health Minister Stephen Donnelly said last week, that the roll out for Covid-19 Vaccines, could begin early next year, and that meetings have been taking place between himself, and Professor Brian MacCraith, Head of the State's Vaccination Taskforce.
Professor MacCraith's team are scheduled to deliver a roll out strategy to the Government in mid-December.
On this potentially joyous news, Minister Donnelly said, "Potentially early in the new year we could be looking at things. Brian MacCraith and his team are obviously very quickly putting in place the distribution needed for that; I'd say December is unlikely to be honest with you, but quite soon.".
CMO Tony Holohan had previously stated that, while news of the Vaccines emerging such as Pfizer, is positive, he exercised caution, and that there was still work to be done "It's hopeful, but it's certainly not a time for celebration, I think we have to keep reminding people that the measures we have available right now; the public health measures that we have continually recommended, and underscored the importance of. Stick to the public health advice,".
Whether Dr Holohan agrees to accept Ryan Tubridy's suggestion of taking the Vaccine live, or not, remains to be seen.
One thing for sure, there has been genuine hope building of a Vaccine, and a potential passage away from this Pandemic. That is positive news in anyone's book!