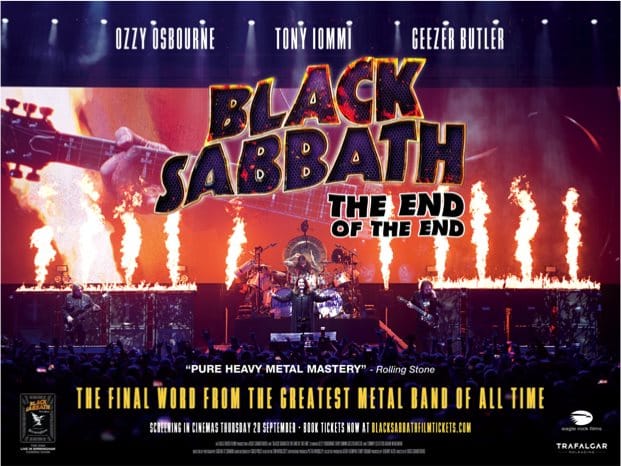 "Black Sabbath The End Of The End" chronicles the final tour from the band who forged the sound of metal and you can see it  in Omniplex Rathmines for one night only on 28th September.
After nearly 50 years together, the Birmingham band took to the stage for the last time in their home city, bringing down the curtain on their final tour ever. They performed generation-spanning songs that have defined a genre in front of a sold-out arena and, in exclusive new interviews, the band themselves tell it how they lived it. After half a century, this is your chance to hear the final word from the greatest metal band of all time.
You can get your tickets to "Black Sabbath The End Of The End" at www.omniplex.ie and indulge yourself at Omniplex cinemas with the comfiest of seats, tastiest of treats & state of the art cinema screens.
Or to win a pairs of tickets including a medium combo & entry to the Radio Nova pre-screening reception with Ruth Scott & Conor Irwin in the brand new Omniplex VIP Lounge in Omniplex Rathmines just email us why you love Black Sabbath and deserve the tickets [email protected]