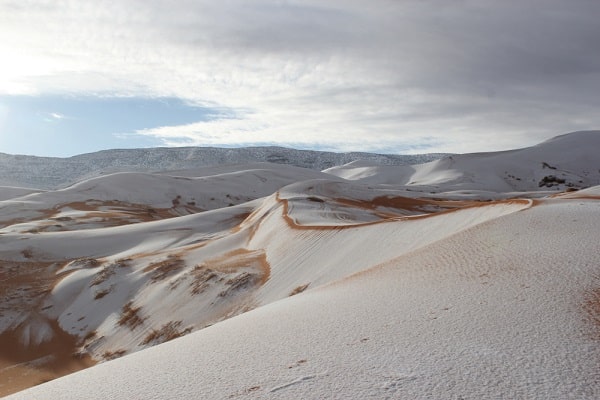 While parts of the world are known to have blistery winters around this time of year, the Sahara Desert would not usually be on that list. However, temperatures have dropped below freezing point this month, leaving parts of Africa and the Middle East covered in a blanket of the white stuff.
High pressure systems of cold air have moved into the deserts, picking up moisture along the way, causing lower temperatures in the areas. While it is a known fact that temperatures in deserts can drop dramatically overnight, moisture usually disappears by daylight.
The Sahara Desert is usually thought of as one of the hottest places on the planet, with daylight temperatures as high as 50°C. However, plummeting temperatures have caused snow to land on the barren desert for the first time in years.
A photographer has captured this rare, winter moment and shared beautiful, mystical pictures of the golden sand dunes of the desert covered in fresh, white snow. The images also show camels after snowfall in the Tabuk region in north-western Saudi Arabia.
The area, close to the border with Jordan, has experienced unusual weather this month. However, locals have not been deterred as people have been enjoying this rare sight. Reports say crowds flocked to the nearby desert to catch a glimpse of the winter wonderland.
This week, snow also fell near Algeria in the desert town of Aïn Séfra. Bouchetata's incredible photos show ice covering sand in the small Saharan desert town, and sheep standing on ice-covered dunes. Aïn Séfra is known as "The Gateway to the Desert" and is around 1,000 metres above sea level, surrounded by the Atlas Mountains.
January is the coldest month in Saudi Arabia, with the mercury hitting an average of 20.2C. Tabuk is one of the coldest regions in the country with average temperatures of 4C, although it usually experiences dry weather.
Nearly half a century has passed since the temperature in the in the country's Aseer region dropped below freezing. Residents of Saudi Arabia were very excited over the rare snowfall, where mountains and deserts have been blanketed in white.
You can check out profile here.