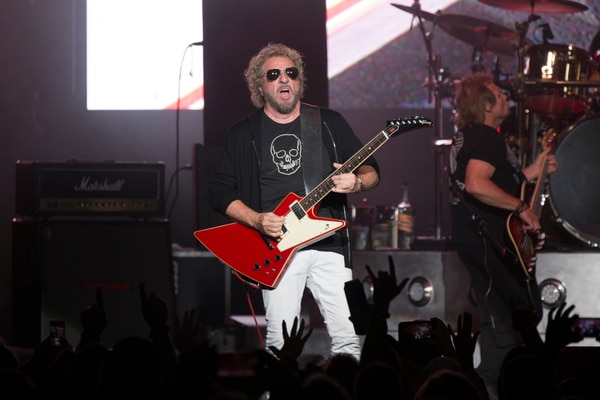 It was a joyous occasion when Mötley Crüe's Vince Neil recently joined Sammy Hagar & The Circle on the stage. The Girls, Girls, Girls frontman joined the band to perform a cover version of the Led Zeppelin classic Rock And Roll.
With COVID-19 restrictions slowly being lifted, the Circle recently made their return to live concerts. Sammy and his band were performing at the Seneff Arts Plaza on Wednesday when they welcomed the Mötley Crüe frontman on stage. Vince took care of the majority of vocals, with Sammy providing backup through harmonies and occasionally jumping in on lead.
Everyone had their part to play at the gig, with each member of The Circle given an opportunity to shine. Bassist Michael Anthony, guitarist Vic Johnson and drummer Jason Bonham (son of Led Zeppelin's John Bonham) were in fine form during their own instrumental breaks and dynamic solos. Even the crowd had a chance to play their part when singing along with Neil and Sammy.
Following the night of nostalgic rock, Sammy shared a photo of him and Vince at the show and thanked the crowd that came. "Look who showed up the second night in Orlando to sit in on LED ZEPPELIN's Rock 'N' Roll. Two great shows thank you Orlando #vinceneil #florida #livemusic #thecircle #singers".
Sammy and the lads kicked off their five-date tour of Florida on May 23rd and will continue performing into June, before playing further U.S. dates in August. Meanwhile, Mötley Crüe's Stadium Tour with Def Leppard, Poison and Joan Jett & The Blackhearts has been rescheduled yet again.
The tour had originally been planned for 2020, before initially being pushed to 2021, and subsequently rescheduled for 2022. It was originally scheduled to take place last summer but was pushed back to this year due to the ongoing coronavirus pandemic. New dates have been set for June 16th, 2022 in Atlanta, Georgia and run through until September 7th in San Francisco.
When the tour finally does take place, it will mark the first time Mötley Crüe have played live, since their farewell tour in 2014/2015. Crüe toured with Poison back in 2011 and Def Leppard teamed up with Poison for a string of road dates in 2017. However, the upcoming outings mark the first time all four acts have hit the road together for an extended tour.
You can check out Sammy and Vince collaborating in the video below.