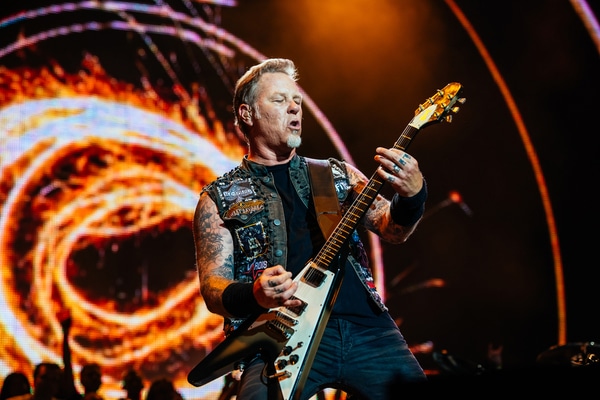 Yesterday saw the mayor of San Francisco London Breed proclaim December 16 "Metallica Day" on the band's 40th anniversary.
At a press event, London Breed also praised Metallica for its importence to the San Francisco and the Bay Area. She also hailed the band members as "extraordinary musicians and people". 
At this press event, Metallica bassist Robert Trujillo and drummer Lars Ulrich appeared with Breed and Another Planet Entertainment president Gregg Perloff. This press event was commemorating the first 40 years of the legendary band.
Metallica are "part of the fabric"
"They're part of the fabric of the community", said Breed full of praise for the band. "They have touched people's lives for generations". 
She also added, "When you talk about San Francisco, you talk about cable cars and then you talk about Metallica. And on behalf of the City and County of San Francisco, I want to officially declare today 'Metallica Day".  
"Part of this Metallica experience and takeover includes supporting small businesses and a clean-up at the beach". 
"something greater than ourselves"
For this 40th anniversary, Metallica have also confirmed a series of events throughout San Francisco. These events include two previously announced concerts at the Chase Center.
These events will also include performances from Taipei Houston, featuring Ulrich's sons along with the Wedding Band. This band is a side project of Robert Trujillo and Kirk Hammett.
Speaking about the acceptance and sense of home San Francisco offered to Metallica, Lars Ulrich and Robert Trujillo had this to say.
"We didn't start in San Francisco", Lars said. "We started in Southern California. And we came up to San Francisco, the first time, in 1982, in September, and played at the Stone and subsequently played at the Old Waldorf a couple of times… And we had done six, nine months in Los Angeles, and we did not belong". 
"The reason we all wanted to be in a band was to fit into something greater than ourselves, and we absolutely did not fit into anything in Los Angeles, Sunset Strip, Hollywood — any of that. We felt like complete outsiders", he added.
Full of praise for San Francisco, Lars Ulrich also added this, "We have been so proud to shout from every rooftop all over the world, at every press conference, in every mic that's been shoved in our faces for the better part of 40 years how much San Francisco gave us an identity and gave us, like I said, a sense of belonging". 
"And we fly the flag proud for San Francisco and the Bay Area all over the world on our t-shirts. But we are so proud of our connection to everything that San Francisco represents and to all the wonderful people, to, obviously, the great physical and geographical elements here and the history and the cable cars and the Giants and the Warriors and the list goes on".
Metallica's achievements see nine Grammy Awards, two American Music Awards, along with several MTV Video Music Awards.
Metallica also recently announced they would livestream their 40th anniversary concert on Amazon Prime. More on this here.