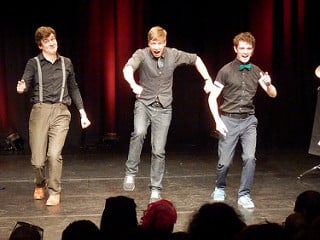 DUBLIN FRINGE FESTIVAL 2017 takes over Dublin city for 16 days, this September 9 – 24.
The first batch of hotly tipped shows from this year's new programme have been announced. As anticipation rises for the full 2017 programme next month, organisers say we can expect "expect it to burst with work of conscience and consequence, of the pure, the empowered and the wild, brought to you by hundreds of messers, leaders, dreamboats and deep-thinkers who will shake-up your September." I'm sold.
Fringe, as always, is on the pulse of cutting edge new shows. This year, for the very first time, Fringe will take to the Abbey Theatre mainstage with festival favourites and YouTube sensations, Foil Arms & Hog. This will be the Irish premiere of their new show OinK. Fasten your seatbelts for a fast-paced sketch show which will perfectly domino from stand-up comedy to hilarious theatre, in this not-to-be-missed comedy fest. Book early as every year the comic trio have sold out fast at the festival. Runs at the Abbey Theatre for six nights only (from September 9).
Then hot off the press is a brand new partnership with Project Arts Centre called NEIGHBOURS that brings some of the best world stage to Dublin.
As part of NEIGHBOURS, the 2002 Pulitzer Prize-winning novel by Jeffrey Eugenides gets a Fringe makeover by leading Italian theatre company Motus. "Shaped like a DJ set, it's an explosion of memoir and gender-blending featuring one of the most savage performances you'll ever see." Runs at Project Arts Centre (Space Upstairs) (15 – 16 September).
FRINGE SNEAK PEEK TICKETS NOW ON SALE www.fringefest.com
And if you're interested in getting involved in the nitty gritty mechanics of Fringe life yourself; Volunteer applications for this year's festival open later this month too. You could get involved in box office, production, and much more. Applicants should email Volunteer Coordinator Paul Donnelly on [email protected] for further details.
There is much, much more, but you gotta wait a little bit longer. However, relish over our first snippet of this year's exciting sixteen day feast of what's brand new and exciting in the performance arts scene as DUBLIN FRINGE FESTIVAL 2017runs city-wide from September 9 – 24. Early release tickets for these six shows are now on sale at fringefest.com (full programme available from July 12).
Photo Credit: Isabelle