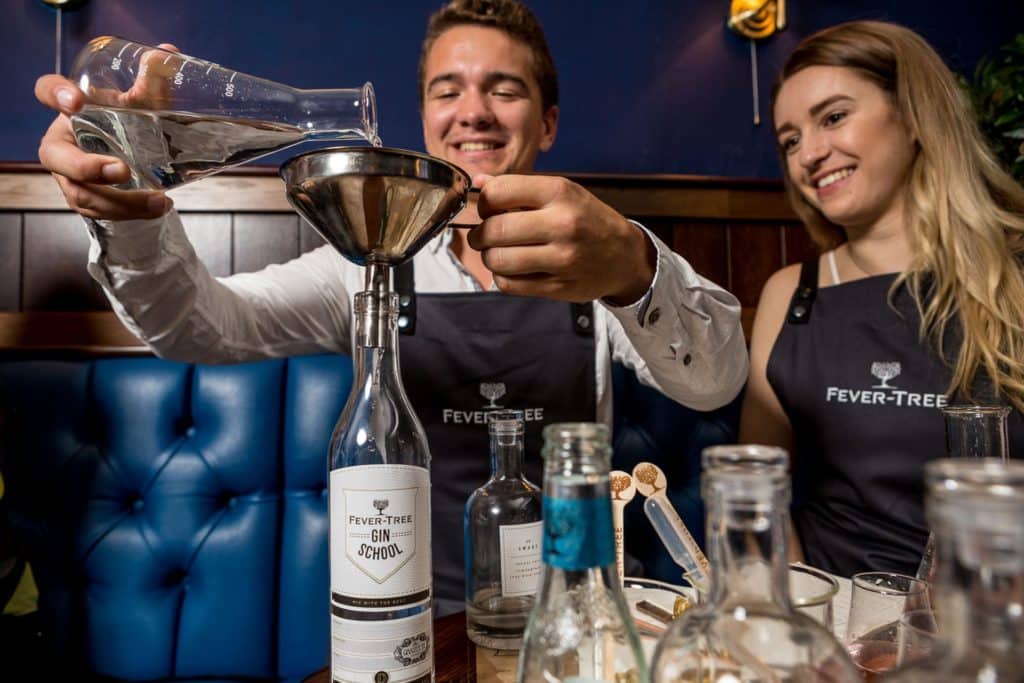 After a sold out run in the UK, The Fever-Tree Gin School has arrived in Ireland to educate the palates of the gin faithful about their favourite drink and how to make the perfect mix.
Keith Malone, master mixologist from Dublin, will put pupils through their paces at the Fever-Tree Gin School. Keith has spent 16 years working in bars and distilleries in Ireland. He has worked with the Fever-Tree flavourists, to design a curriculum to immerse you in an interactive tonic pairing wheel masterclass, showcasing the tasting notes in Fever-Tree tonics and how they combine with the five key flavour categories of gin.
The Gin School will tour nationwide from September 20th, following its debut at Taste of Dublin in June and €20 tickets are available from https://fever-tree-gin-school.eventbrite.ie
Some dates also include brunch at €35.
At the Fever-Tree Gin School you will be treated to a complimentary gin and tonic on arrival, as well as four gin pairings based on different flavour notes of Fever-Tree tonic. Some light nibbles will keep you going as you are brought through the history of Fever-Tree and the gin distilling process. Fever-Tree's Gin Graduates will leave with a goodie bag of Fever-Tree mixers, armed with the knowledge to mix with the best and bring your new pairing expertise home.
The Fever-Tree Gin School is touring to the following locations and dates as follows:
Dublin
Thursday 20th September @ 7pm – Opium, Dublin 2 – Gin School €20
Friday 21st September @ 5.30pm & 8.30pm – Lucky Duck, Dublin 2 – Gin School €20
Saturday 22nd September @ 1pm – Roberta's Dublin 1 – Gin School & Brunch €35
Saturday 22nd September @ 5pm – Roberta's, Dublin 1 – Gin School €20
Wednesday 26th September @ 5.30pm – Lucky Duck, Dublin 2 – Gin School €20
Wednesday 26th September @ 8.30pm – Lucky Duck, Dublin 2 – Gin School €20
Kilkenny
Thursday 27th September @ 7.30pm – Left Bank, Kilkenny – Gin School €20
Cork
Friday 28th September @ 6.30pm – The Raven, Cork – Gin School €20
Galway
Thursday 4th October @ 7pm – Tigh Nora, Galway – Gin School €20
Saturday 6th October @ 1pm – Tigh Nora, Galway – Gin School €20
Saturday 6th October @ 5pm – Hyde Bar, Galway – Gin School €20
Sunday 7th October @ 1pm – Hyde Bar, Galway – Gin School & Brunch €35 Limerick
Thursday 11th October @ 7.30pm – 101, Limerick – Gin School €20
Friday 12th October @ 7.30pm – 101, Limerick – Gin School €20
Saturday 13th October @ 1pm Brunch – Grace's Pub, Naas – Gin School & Brunch €35
Saturday 13th October @ 5.30pm – Grace's Pub, Naas – Gin School €20
Thursday 18th October @ 7pm – The Vintage Rooms, Belfast – Gin School £18
Friday 19th October @ 8.30pm – The Jailhouse, Belfast – Gin School £18
Louth
Saturday 20th October @ 5pm & 7.30pm – Russell's Saloon, Dundalk – Gin School €20