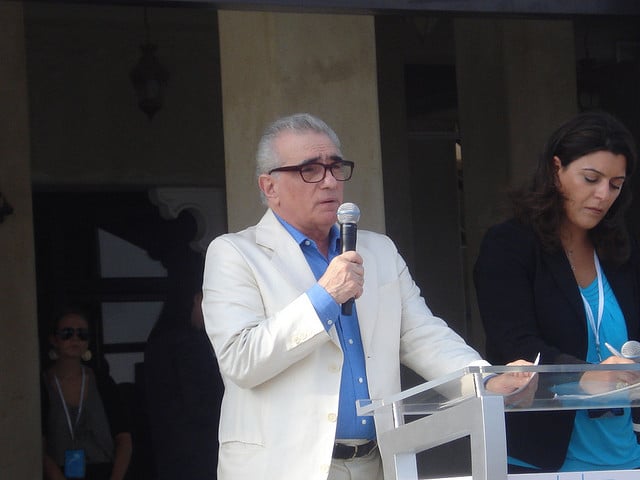 Acclaimed director Martin Scorsese, is reportedly planning to make a Ramones movie, due out in 2016.
The news came from the annual Johnny Ramone tribute in the Hollywood Forever Cemetery. The project will be a feature film about the influential punk rockers.
Speaking with Billboard, Jeff Jambol who manages the Ramones estate, says there are many things in the pipeline for the Ramones.
Jampol said, "The 40th anniversary of the Ramones is coming up in 2016, that's when the first album came out. So we have a lot of projects leading up to that. We're looking at a documentary on the Ramones, we just secured a ton of footage, much of which has never been seen before," he says. "It came from the Ramones on the road over the years in the Seventies and a little bit in the Eighties."
Billboard reports that other Ramones projects coming include a documentary, theatrical play, book, reissues, fashion and music.
Scorsese might be more well known for directing crime-gangster films like, Casino and Mean Streets but he also is a massive music fan.
Just look back at the amazing soundtracks for Goodfellas and The Departed. The Italian mafia film was littered with gems like Gimme Shelter by The Rolling Stones, Sunshine of Your Love by Cream and Jump into the Fire by Harry Nilsson.
The Departed was equally impressive, with songs such as Pink Floyd's Comfortably Numb, The Allman Brothers Band's One Way Out and Dropkick Murphys' I'm Shipping Up To Boston.
In recent years, Marty has turned his attention to filming music documentaries. In 2003, he completed production of The Blues, a seven part documentary series tracing the history of blues music from its African roots to the Mississippi Delta.
In 2005, he made No Direction Home, a documentary about the life of Bob Dylan. As well as shooting the Rolling Stones performing at New York City's Beacon Theater in 2006, for the concert film Shine a Light.
Additionally, to the Ramones movie, it is rumoured that Scorsese will be shooting a feature film about Frank Sinatra.