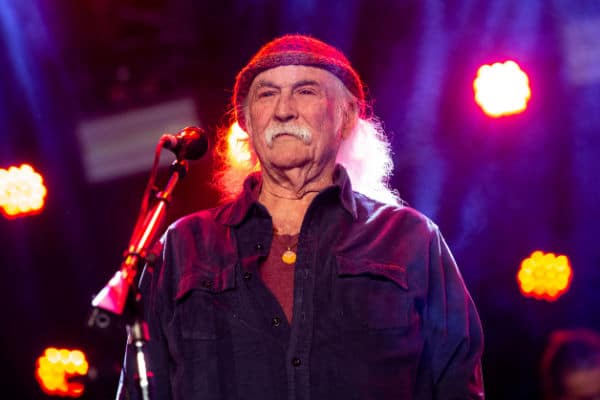 Would you like to listen to the article instead of reading it?
Footage of David Crosby's last ever live performance has been shared.
This footage was released following the singer's recent death. He was 81 years old and this news was confirmed by his wife Jan, who shared this statement.
"It is with great sadness after a long illness, that our beloved David (Croz) Crosby has passed away. He was lovingly surrounded by his wife and soulmate Jan and son Django", she said.
"Although he is no longer here with us, his humanity and kind soul will continue to guide and inspire us. His legacy will continue to live on through his legendary music".
"Peace, love, and harmony to all who knew David and those he touched. We will miss him dearly. At this time, we respectfully and kindly ask for privacy as we grieve and try to deal with our profound loss. Thank you for the love and prayers".
Last Ever David Crosby Show
In October 2019, David Crosby joined solo artist and regular collaborator Michele Willis on stage at 918 Bathurst in Ontario, Canada, with the pair performing Crosby's tracks 'Glory' and 'Janet'.
They also performed a live cover of Joni Mitchell's track 'Woodstock', along with Willis' single 'Trigger'.
This performance was part of a live recording of Willis' EP 'Just One Voice'.
Alongside the video, Willis also wrote, "David Crosby flew in to Toronto and performed as a guest at the live concert with my OG bandmates in a renovated buddhist temple. Yeah, it was special. I hope you enjoy this delicious version of Trigger, featuring my great friend David Crosby".
Check out this footage below.
Having achieved chart success with his first band The Byrds, David Crosby also joined up with Stephen Stills, Graham Nash and Neil Young to form their own group.
Paying tribute to Crosby, Stephen Stills hailed him as a "giant of a musician", while Nash described the late singer as "fearless in life and in music".
"David is gone, but his music lives on", Neil Young also wrote on in tribute to Crosby via his Neil Young Archives website. "The soul of CSNY, David's voice and energy were at the heart of our band. His great songs stood for what we believed in and it was always fun and exciting when we got to play together".