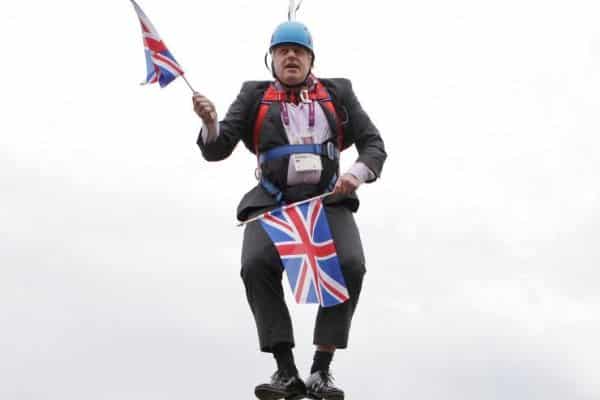 Boris Johnson has resigned as Britain's foreign secretary in a second major cabinet departure in less than 24 hours, plunging Theresa May's government into chaos.
It comes after David Davis resigned as the Brexit secretary after a major row with the prime minister over plans for the future UK-EU relationship.
Donald Tusk, the European Council president, immediately suggested the twin blow might yet force the UK to rethink leaving the EU altogether.
A Downing Street spokesman said:
"This afternoon, the prime minister accepted the resignation of Boris Johnson as foreign secretary. "His replacement will be announced shortly. The prime minister thanks Boris for his work."
On Friday it was reported that Boris went bonkers after briefings that he had signed up to the agreement at Chequers, also calling it 'a turd'. Johnson decided he could not promote the deal.
Pressure on secretary had been mounting since fellow pro-Brexiter David Davis resigned as Brexit secretary on Sunday night.
Tom Watson, Labours deputy leader, said:
"Theresa May's government is in meltdown. This is complete and utter chaos.

"The country is at a standstill with a divided and shambolic government. The prime minister can't deliver Brexit and has zero authority left."
Shadow education secretary Angela Rayner said:
"Boris Johnson has now resigned, the HMS Tory Party is sinking fast, Tories cannot even move the deckchairs around as there is nobody to sit in them any more.

"What a complete shambles the incompetent Government is, time for Tories to go ToryFail."
Britain's under-fire Prime Minister Theresa May thanked both David Davis and Boris Johnson for their work in the Commons.
She praised Davis for what he did steering Brexit legislation through the Commons. And she pays tribute to the 'passion' that Johnson showed in promoting a global Britain to the world.
May said to MP's the friction-free movement of goods is the only way to avoid a hard border in Ireland, and a border between Ireland and Britain, and the only way to protect supply chains.
She says she is proposing four steps that will enable this, which are set out in the three-page government document published on Friday night.
She says the EU goods regulations that the UK would have to accept are relatively stable. There would be a parliamentary lock on any new laws.
Politicians come and go but the problems they have created for people remain. I can only regret that the idea of #Brexit has not left with Davis and Johnson. But…who knows?

— Charles Michel (@eucopresident) July 9, 2018
Labour leader Brendan Howlin TD said:
"With only months until the March 2019 departure date, there is a real risk that no further progress will be made on the Irish border issue until it is too late to secure a solid agreement to keep the border open in any eventuality.

"Leo Varadkar and Simon Coveney should continue to press for the Irish border issue to be resolved by the 20 September special EU Council meeting called by the Austrian presidency.

"In the event that the British Government collapses following these resignations, Leo Varadkar should propose that the EU postpones the Article 50 withdrawal date to give time for an election and government formation in the UK."
Statement. pic.twitter.com/YxNy8dMxwi

— Ruth Davidson (@RuthDavidsonPC) July 9, 2018
Boris Johnson is the latest to hand in a transfer request as his team hurtle towards inevitable relegation.

— Gary Lineker (@GaryLineker) July 9, 2018
Gary Gibbon of Channel 4 news now expects that there will a heave against the leader.
"It can be reasonably sure now that an attempt on the PM's leadership will be made. Forty-eight MPs need to send in letters demanding a vote of no confidence. That now looks very plausible.

Can Theresa May survive a challenge if it comes now? There were allies who thought that was possible and said that they relished the opportunity. They may be about to get the chance to test their strength."