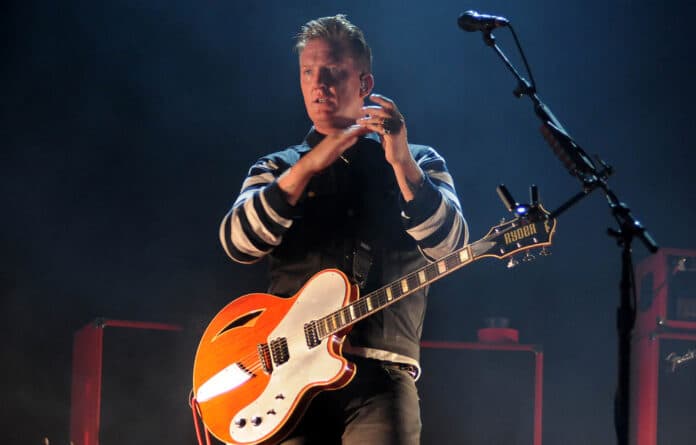 Every day at 4:30 on Radio Nova, Pat Courtenay brings you seriously addictive music news and here are the stories that matter today.
Five years on from the Bataclan attack in Paris, Queens of the Stoneage are to release an unseen concert to raise funds for the charity, 'Life for Paris'. The Eagles of Death Metal were playing a concert at the Parisian concert hall, the night terrorists hit the venue. 90 people sadly lost their lives at the Bataclan that night.
Queens' frontman Josh Homme plays the drums for the Eagles of Death Metal on their records, but was not at the concert that night. The band had played Dublin's Olympia theatre earlier that week.
'Life for Paris' is an association of victims and families of victims from the three terrorist attacks Paris faced that night including the Bataclan, terraces attacks and the Stade de France attack. The association offers a safe space to all victims linked to the atrocities. They also welcome survivors, first responders and caregivers related to the November 13 attacks.
Queens of the Stoneage will air their 2018 concert from Tasmania's art museum. The show will be aired for a limited time starting at 5 o clock Irish time on Friday November 13.
You can watch their performance of 'The Way You Used To Do' from the concert below.
Dave Peyton is an Irish singer/songwriter hailing from the small midlands town, Daingean after he and his family moved there from Dublin in the early 80s. Peyton's band Dave's Radio became a household name when they reached the finals of RTÉ's 'You're a Star' show in 2005.
Soon after, the band demoed new material with music producer Gareth Mannix at Kila studios in Celbridge, Kildare. This led to a record deal with Polydor records UK. The band went on to have three top 20 singles in the Irish charts after working with legendary producer, Steve Osborne. Dave's Radio also went on to share the stage with The Pogues, The Editors, Avril Lavigne, The Frames, Sister Sledge and many more.
In 2008, the band's journey with Polydor records UK came to end as Colin Barlow who was the man responsible for signing Dave's Radio, left for a new position at RCA Records.
Peyton decided to call time on Dave's Radio and pursue a solo career. He recorded his debut solo album entitled 'Couch Lovers' at Dockside Studios in Louisiana. Iconic artists such BB King, Mark Knopfler and the famous Scarlett Johansson also recorded music at Dockside. The album was co-produced and mixed by Gareth Mannix and mastered by Bruce Barielle.
Peyton has spent a decade away from the music industry. He dedicate his time to focus on his family and raise his two children. Now, he is back with his hotly anticipated new single 'Baby, Come On'. You can listen to it below.
Make sure to keep tuning into Radio Nova as we bring you seriously addictive music and music news!