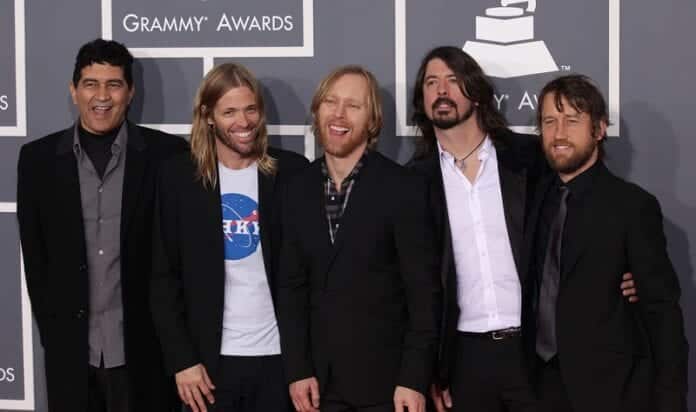 Every day Pat Courtenay and Radio Nova bring you the best music and Seriously Addictive Music News and here are stories making the headlines today.
Fresh from releasing their 10th studio album, Foo Fighters have covered 'Shadow Dancing' by Andy Gibb. This is the second time this year they have covered a Gibb brothers' hit.
This weekend the band played the Rock-N-Relief live stream event. There were a series of performances from Dodger stadium in Los Angeles, America's biggest vaccination centre while others performed from homes and studios.
Foo Fighters played two tracks at the concert, 'Medicine At Midnight' and Andy Gibb's 'Shadow Dancing' and you can check out the video below.
Last month, Foo Fighters covered 'You Should Be Dancing', a Bee Gees' hit for BBC Radio. You can check out the cover and read our report on it here.
Radio Nova is the exclusive home of 'Foo Fighters Radio' in Ireland. Every Saturday night at 6pm we bring you a new episode. It's repeated on Sunday evenings at 9pm. Click here for more information.
https://www.youtube.com/watch?v=WZtVrTJ2ob4
In other Seriously Addictive Music News, a trailer for the new Smiths movie has been released.
Entitled 'Shoplifters Of The World', this movie has been in the pipeline for years.
Back in 2016, it was announced that Joe Manganiello (Magic Mike, Spiderman and Sabotage) had got Morrissey's blessing to make a movie based on the story of a man holding a radio station hostage and demanding that they only play the Smiths and Morrissey's songs.
The film comes out this month and you can see the trailer below. At the time of writing, there has been no confirmation of an Irish release date.
In 1988, a young man named James Kiss concocted a plan to take over a radio station. As a massive Smiths and Morrissey fan, he wanted his local pop friendly and Top 40 radio station in Denver, Y108, to change tracks.
He had planned his attack for months and on certain occasions, he even went into the radio station and chatted to the receptionist.
On the day he decided to carry out his plan, armed with a gun, six Smiths cassette tapes and one Morrissey album, he lost his nerve in the parking lot and was stopped by Greg Fadick who worked at Y108.
'Shoplifters Of The World' plays on this event and will be a must watch for any Smiths fans as 20 of their songs are featured.
Keep tuning into Radio Nova as we bring you the best music and Seriously Addictive Music News!