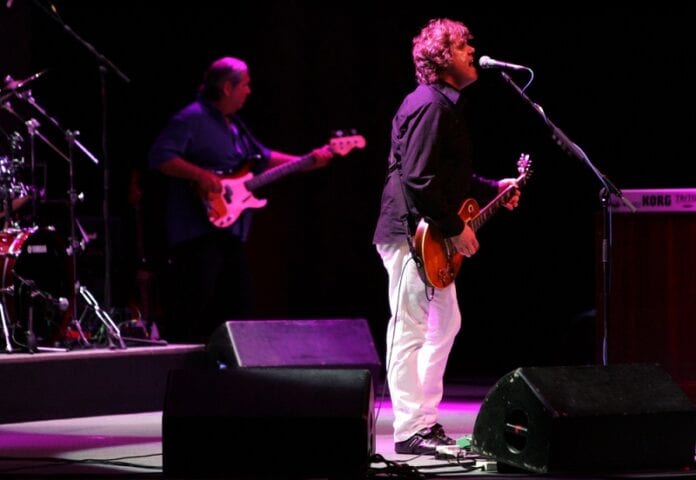 Every day here at Radio Nova, Pat Courtenay brings you Seriously Addictive Music News and here are the stories making the headlines today.
A new Gary Moore album is on its way. 2021 marks the 10th anniversary of his sad passing. Dying at such young age, many thought there was more music left to be heard from the Thin Lizzy guitarist.
It has now been revealed that a new album entitled 'How Blue Can You Get' will be released on April 30. The record features unheard and unreleased deep cuts and alternate versions of songs. It also includes unheard originals such as 'In My Dreams', which you can check out below.
Gary Moore was beloved by many. Toto's guitarist Steve Lukather once said:
"He was a very nice man as well. His loss is felt by all who loved him, but we are blessed; we can still hear him play on the records, DVDs, and all that will live forever. He was a one of a kind."
'How Blue Can You Get' is released on April 30 in various formats. You can pre-order the new album here.
Another guitar legend is releasing her first solo album. Nancy Wilson from Heart has announced details of her first solo record and it sounds extremely promising.
The new album entitled 'You And Me' will hit stores in the first week of May and will be available to pre-order from March 8. Wilson is releasing the album on her own new label, Carry On Music.
It will feature eight new original songs and three covers including Pearl Jam's 'Daughter', The Cranberries iconic hit 'Dreams' and what should be an incredible collaboration with Sammy Hagar on a cover of Simon And Garfunkel's track 'Boxer'.
To celebrate the new album, Wilson has released her cover of Radio Nova's own Bruce Springsteen's classic track, 'The Rising'. You can check it out below.
'You And Me' will mainly consist of acoustic ballads but there are rockers in there. 'Party At The Angel Room' features Foo Fighter's Taylor Hawkins and Guns N' Roses' Duff McKagan in what is a great supergroup backing band.
Wilson worked on the new album from home and guests worked remotely due to the pandemic. The record ends with an instrumental tribute to the late Eddie Van Halen. The tribute is called '4 Edward' and in an interview with Guitar World, Nancy Wilson recalled giving Eddie an acoustic guitar.
"I was the first one to ever give him an acoustic guitar," Wilson said. "When we were touring with those guys in the '80s, he was like, 'I like how you play that acoustic.' And I said, 'Well, why don't you play more acoustic?' And he goes, 'Well, I don't have an acoustic.' And I said, 'You don't have an acoustic? What?'"
In more Seriously Addictive Music News, The White Stripes have uploaded their full performance from The Basement.
The Basement was a web series that ran between 2007 and 2009 filmed in London. It featured The White Stripes, Thom Yorke, Queens Of The Stoneage and many more.
This is the first time that the full performance from The White Stripes has been available in full for free. You can check out it below and it is something that should be played loud.
Jack White has been feeling generous recently. Along with this footage, the guitar icon also bought a busker a Fender Custom Shop guitar worth €2,500 after his guitar was destroyed by an idiot.
Keep tuning into Radio Nova as we bring you the best in music, special programming like the Foo Fighters new radio series and Seriously Addictive Music News.