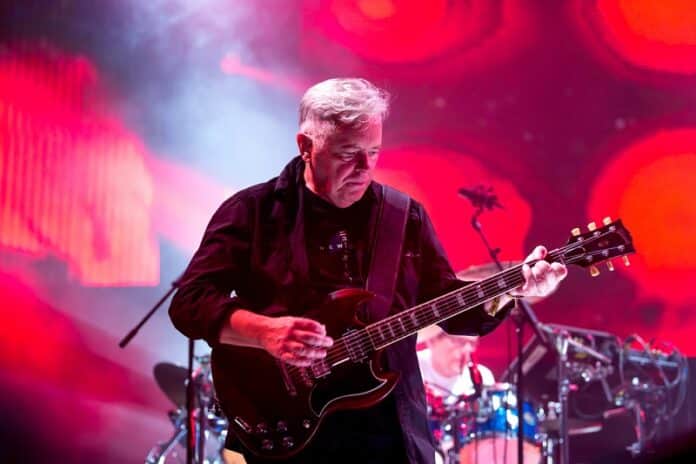 Every day at 4:30 Pat Courtenay brings you seriously addictive music news and today it is all about the new music video from New Order.
New Order have shared a new music video for their recent single entitled 'Be a Rebel'. It is a vibrant short film directed by Spanish director NYSU. You can check out the new video below.
In a press release, the band said, "We'd previously worked with NYSU from Madrid when they created a memorable video for us to go with 'Restless,' and their imagination and creativity with film really struck a chord with the band."
"For 'Be a Rebel,' it has been great to team up with NYSU again, and their inspirational treatment and unique aesthetic compliments the track with a very original vision"
The track came out in September and was the band's first song they had released in five years. In the same month, they shared the 'Renegade Spezial Edit' of 'Be a Rebel'.
At the time of the release, the Manchester icons told NME in an interview that they "wanted to reach out with a new song" during the pandemic.
New Order frontman, Bernard Summer said "In tough times we wanted to reach out with a new song. We can't play live for a while, but music is still something we can all share together. We hope you enjoy it…until we meet again."
Drummer Stephen Morris said "It's kind of carrying on from 'Music Complete'. It's a very dance-y song. It's been a bit strange making a record via remote control, with the song getting batted about backwards and forwards, but hopefully it's turned out alright. It's just a one-off at the minute. We thought we'd start with one and then see how it goes".
The last album released by New Order was back in 2015. The 'Music Complete' record was the band's 10th studio album.
Recently, members of New Order have been recounting their time as part of Joy Division in a new podcast called 'Transmissions'.
New Order and NYSU have worked together before. The Spanish director has worked with the likes of Bastille, Love of Lesbian, Wild Beasts and Guadalupe Plata.
Be sure to keep tuning into Radio Nova as we bring you the best music and seriously addictive music news.