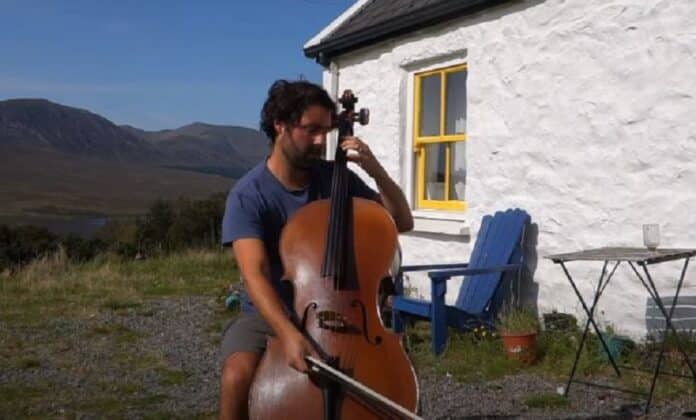 Every day at 4:30 Pat Courtenay brings you Seriously Addictive Music News and the story that matters today is about an Irish cellist.
Patrick Dexter is a cello player from Co. Mayo. Since the beginning of the first lockdown, he has been posting videos of himself playing the cello from the picturesque Mayo. The Irish cellist has now gone viral.
Speaking to the BBC, Dexter said "like for everyone, my life really changed earlier this year when lockdown happened".
"…Ok, this is a difficult time, but I have more time to play music by myself, what I always wanted to do."
Speaking about the reactions to his video, the cellist said "it has been overwhelming, but in a warm hearted way".
Patrick has been playing the cello since he was seven years old. He has played at many events across a wide variety of locations around Ireland including Ashford Castle and Donald Trump's hotel in Doonbeg, Co. Clare.
He spent a number of years abroad, including getting a Masters from the Leiden University in the Netherlands and has also spent time in Asia.
In 2016 he helped set up the The Octagon Ensemble, a community based Orchestra in Westport to help promote playing string instruments. He is currently teaching music at two schools in Mayo, as well as getting millions of views on his fantastic videos.
His videos make Irish expats yearn for home and they are also quite calming in what has been a chaotic year. He recognises the fact that Irish people living around the world feel a sense of nostalgia for the music and the landscape of Ireland.
You can watch Patrick perform 'Hallelujah' by Leonard Cohen below and watch more of him here.
Make sure you keep tuning into Radio Nova every day ass pat Courtenay brings you Seriously Addictive Music News.