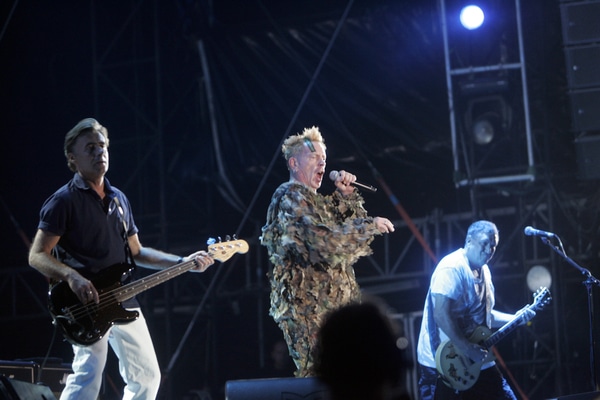 John Lydon's former Sex Pistols bandmates Steve Jones and Paul Cook have responded to his comments following the recent legal debacle over song rights.
Last month Lydon lost a legal battle to prevent Sex Pistols songs from being used in an upcoming TV show from director Danny Boyle. Lydon had refused to allow the songs to be used, which prompted Jones and Cook to sue their former frontman.
The court ruled in favour of Jones and Cook, citing a "majority voting" rule. Cook, Jones, original Pistols' bassist Glen Matlock and the estate of Sid Vicious all ruled in favour of allowing the music to be used, with Lydon outvoted by four to one.
Lydon subsequently released a statement on his website in which he claimed he had no knowledge about the plans to use Sex Pistols songs in the TV show, titled Pistol, until "just a few hours" before the news was made public. According to the statement, Lydon was concerned about how he would be portrayed in the show.
"Understandably, John, as the creative force of the Sex Pistols wanted to know how he was going to be portrayed and his musical works were going to be used to lend credibility to the series," the statement read. "Despite asking for details of the script or screenplay, John still does not know these details. John Lydon did not ask for the recent proceedings. He was asked to allow the Sex Pistols works to be used without any prior consultation or involvement in the project. He took a stand on principle for what he sees as the integrity of the Sex Pistols legacy and fought for what he believed and continues to believe was right."
Jones and Cook have now issued a statement in which they dispute Lydon's claims.
"Despite John Lydon's comments on his website, we reiterate that he was informed of the Pistol TV series, offered meetings with the director and to be involved in the show months before principal photography began," the pair said via the statement. "He refused these offers and we were saddened he would not engage and at least have a conversation with the director Danny Boyle and co-showrunner Craig Pearce."
Jones and Cook took umbrage with Lydon's claim of being the band's creative force.
"While John's contribution is rightly acknowledged, his claims to be the only band member of consequence are hard to take," the statement reads. "Steve, Paul and Glen started the band and it was completed when John joined. All songs on the band's seminal 'Never Mind The Bollocks' album were written by Paul Cook, Steve Jones, Glen Matlock and Rotten except 'Holidays In The Sun' and 'Bodies' which were penned by Cook, Jones, Rotten and Vicious. In addition, Pistol is based on Steve Jones' book Lonely Boy."
Lydon hit back on an appearance on Good Morning Britain on Tuesday morning, calling his bandmates "filthy liars" and "two-faced hypocrites."
"How are you gonna do a documentary on punk without, hate to be pretentious about this, without Mr. Rotten?" he queried.