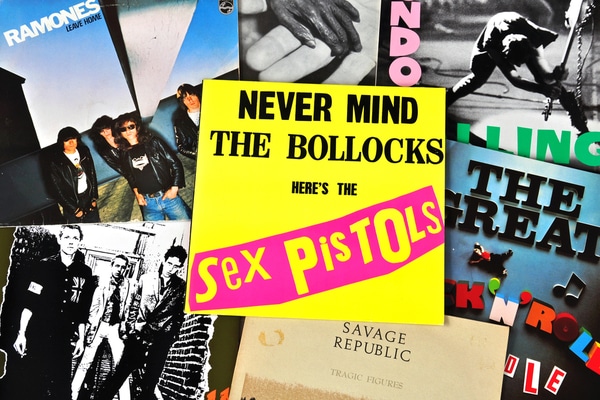 The Sex Pistols are to mark the Queen's Platinum Jubilee by reissuing their iconic track 'God Save The Queen'.
Before being released via Richard Branson's Virgin record label in 1977, the Sex Pistols had been previously dropped by their A&M label. This led to 25,000 unreleased copies of 'God Save The Queen' being destroyed.
Only a handful of copies from the original A&M release remain, with one selling for £13,000 in 2019.
Following its release via Virgin in May 1977, the track was banned by the BBC.
However, the Pistols' track went on to reach number 2 in the UK singles chart. (The song was listed as blank to avoid causing offence).
'God Save The Queen' 
Since then, it has now been confirmed that the Sex Pistols will reissue both the A&M and Virgin releases of 'God Save The Queen' on May 27 via UMC.
It has emerged that four thousand 7″ copies of the Virgin release of 'God Save The Queen', and nineteen thousand and seventy seven 7″ copies of the A&M release will be made available.
The A&M release will also feature the track's B side 'No Feeling', while the Virgin release will also include the B side 'Did You No Wrong'.
The track will be reissued in honour of the Queen's Platinum Jubilee which runs from June 2-5.
Both reissues will also contain original artwork, with the Virgin release including the Jamie Reid-designed Sex Pistols artwork, and the A&M release also featuring its generic company sleeve and being pressed on silver/platinum vinyl.
You can also pre order these reissues here.
Sex Pistols Release 'Original Recordings'
This reissue will also coincide with the release of the Sex Pistols compilation album, 'The Original Recordings' which will also arrive on May 27.
This is an album which will feature 20 of the Punk rockers' biggest hits from between 1977 and 1979.
Once again this album, along with the upcoming Danny Boyle biopic Pistol have been dismissed by former Pistols frontman John Lydon.
"For the avoidance of any doubt, John Lydon has not approved this compilation and does not endorse or support it. He has not approved the artwork or tracklisting", a statement shared via Lydon's Facebook account said. More on this here.
Speaking of Pistol, a new trailer for the six part series was released. Check it out and Nova's report here.