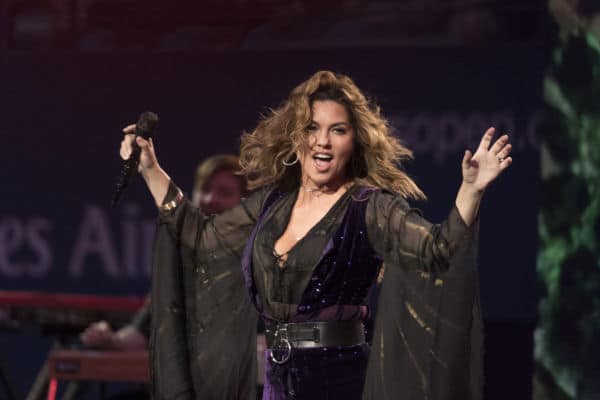 Shania Twain has revealed that she turned down the chance to make "the next Rumours" album with Prince.
Speaking in a new interview, Twain revealed that the late singer had got in touch with her about this potential collaboration in 2008.
At the time, Twain was in the midst of her divorce from her husband Matt "Mutt" Lunge following his affairs.
"missed out on that"
Shania Twain who released her latest album 'Queen Of Me' this week, revealed all about what might have been to Apple's Zane Lowe.
She said that Prince was keen to make another version of the Fleetwood Mac classic. 
"I missed out on that because Prince called me when I got divorced", she said.
"We're on the phone and he said, 'Shania, why don't you come to Paisley Park? I want to make the next 'Rumours' album with you", she continued. And that was the weirdest thing he could have ever have said, because Mutt – his standard of what he thought, where I could live as a standard – was that album, 'Rumours' album". 
However, Twain felt that this opportunity had come too soon.
"When Prince said that to me, I'm like, 'Oh man, I'm not even divorced yet.' I'm just like, 'I've been dumped,' but I'm not, obviously, divorced yet. I'm like, this is way too ironic what you're saying. Right? And I'm such a major Prince fan", she explained.
The singer added, "And then on top of it, I hadn't found my voice yet." Twain referenced her battle with Lyme disease that robbed her of her vocal power. "I was still working on it. I was so far from finding it still". 
Prince Not Keen On Shania Twain "swearing"
Continuing, Shania Twain added that Prince's manners provided another problem.
"I'm on the phone with him and I'm swearing like I always do. I mean, because I'm just at home", she said.
"and he said to me, 'Well, if you do decide to come to Paisley Park, there's no swearing allowed here.' So that was another strike".
"I'm like, 'Oh no, I love you so much, but I don't think I could get through writing and recording an album without swearing, somewhere along the way! What are you going to do to me if I swear? I might have to stand in the corner or something.' I wasn't sure about that. I don't think I was ready for what all that was going to mean for me. I didn't give up on it or anything, but then he died". 
Prince passed away in 2016.