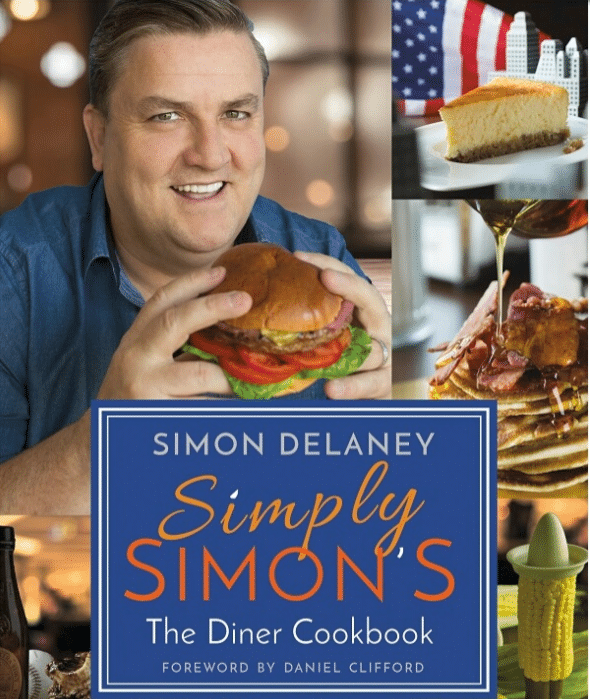 There seems to be nothing that Simon Delaney can't do. He's been an actor, writer, director, TV presenter and producer for almost twenty years. He has an incredible range of work under his belt, all the way from Moone Boy to The Good Wife, Delivery Man, Mrs Brown's Boys D'Movie and Coronation Street. But away from the lights and cameras, Simon's passion in life is food.




His passion for food saw him make the final of Celebrity Masterchef in Ireland. The time he spent in America ignited Simon's love of the Great American Diner experience.

In SIMPLY SIMON'S – The Diner Cookbook, Simon Delaney has taken his favourite Diner dishes and adapted them for the home cook. He'd always wanted to learn how to replicate his favourite Diner dishes at home, and having now done that, SIMPLY SIMON'S gives you the chance to do the same. Simon popped into us last week to give us a look at the book and talk to Dee. We were all extremely impressed with it, the recipes look amazing and very easy to make!

The cookbook is laid out like a diner menu, with beautiful images of the food that make your mouth water. you can pick your favourites and have them in whatever order you want, or do the classic starter, main & desert. Or check out th range of options from the breakfast menu or cocktail list!

It's what Simon loves about Diners, that day or night, summer or winter, you can have your favourite comfort food dish, whenever you want it. And he's set out options for classic and healthy-eating recipes that are equally delicious as the indulgent dishes.

SIMPLY SIMON'S is all about choice and delicious, comforting food. Whatever you want, whenever you want it. Enjoy!

Simply Simon's is available for purchase from various book stores, including Easons here!