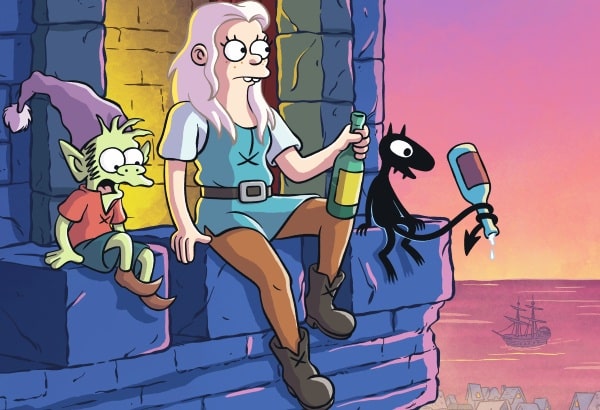 From the creative genius that is the Simpsons creator Matt Groening, comes the adult animated comedy fantasy series, Disenchantment, with tenm episodes launching on Netflix in August.
Viewers will be whisked away to the crumbling medieval kingdom of Dreamland, where they will follow the misadventures of hard-drinking young princess Bean, her feisty elf companion Elfo, and her personal demon Luci.
Along the way, the oddball trio will encounter ogres, sprites, harpies, imps, trolls, walruses, and lots of human fools.
The series will feature the voice talents of Abbi Jacobson ("Bean"), Nat Faxon ("Elfo") and Eric Andre ("Luci").
John DiMaggio, Billy West, Maurice LaMarche, Tress MacNeille, David Herman, Matt Berry, Jeny Batten, Rich Fulcher, Noel Fielding, and Lucy Montgomery will also all appear.
Disenchantment is produced by The ULULU Company for Netflix, with Matt Groening and Josh Weinstein (The Simpsons, Futurama) serving as executive producers.