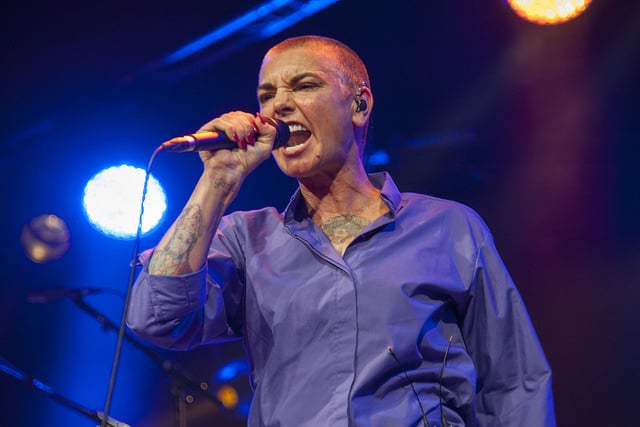 Sinead O'Connor will be dishing the dirt on her music, sex life and numerous controversial incidents that have occurred during her career, in a new memoir.
Irish singer's book, which is currently untitled, will be released in March 2016 her publisher announced today.
According to a press release, the memoir will cover O'Connor's childhood in Ireland, her rise to fame, as well as her current career.
She told The Guardian, "I've never stopped expressing myself in my music, and now, with a book."
The autobiography is likely to include the notorious 1992 incident on US television, when she tore a picture of Pope John Paul II during a performance on sketch show Saturday Night Live. The incident left the audience speechless and had producers scrambling to go to commercials.
The book covers the time up to her most recent album I'm Not Bossy, I'm The Boss, released in August. No doubt the Miley Cyrus feud will take up a few pages. O'Connor penned an open letter to Cyrus, encouraging her not to fall into the traps of the music industry. The advice wasn't well received by the teenage American singer, who posted a screenshot of the singer asking for psychiatric help on Twitter.
Her publisher stated the book will cover her "turbulent upbringing in Ireland; her breakout as an artist with 1987's The Lion And The Cobra and her nine subsequent albums; her controversial opinions and actions, as well as her personal and musical struggles and triumphs, through the present day".
Sinead has been married four times, her statement revealed, "I look forward to dishing the sexual dirt on everyone I've ever slept with." The singer told RTÉ in 2003 that while most of her sexual relationships had been with men, she has had three relationships with women. And in May 2005 in an interview with Entertainment Weekly, she stated, "I'm three-quarters heterosexual, a quarter gay. I lean a bit more towards the hairy blokes".

Whatever else is covered it sounds like it's going to be an interesting read.