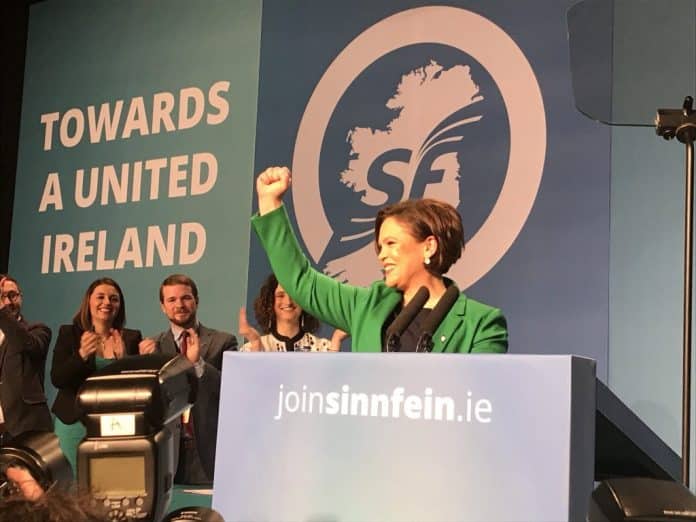 Sinn Féin is entering a fresh phase with its first new leader in 34 years.
Mary Lou McDonald was elected as the party's President at a special Ard Fheis in Dublin this weekend.
Mary Lou McDonald is officially the new leader of Sinn Féin. A career starting in rapturous applause at the RDS #SFLeaders pic.twitter.com/OX5y93hnbC

— Seán Defoe (@SeanDefoe) February 10, 2018
And so it begins- the next chapter in our Republican journey. Proud, humbled, determined @moneillsf pic.twitter.com/nmFipNW4HB

— Mary Lou McDonald (@MaryLouMcDonald) February 10, 2018
And that's a wrap folks. After 35 years of visionary & dedicated leadership, Gerry Adams is replaced as Uachtarán Shinn Féin by the great Mary Lou McDonald.#SlánGerry pic.twitter.com/qvdz9ZLR9j

— Sinn Féin (@sinnfeinireland) February 10, 2018
At the RDS in Dublin, tributes were paid to Gerry Adams, who led the party for 34 years.
Donegal TD Pearse Doherty spoke about his international reputation.
Met Gerry Adams & Martin at Bloody Sunday Rally as 16year old. They encouraged me to play my part. Gerry has inspired & motivated me and a new generation of republicans. A privilege to serve with him over the years. A leader, a revolutionary, a statesman, a peacemaker & friend.

— Pearse Doherty (@PearseDoherty) February 10, 2018
But Labour's Brendan Howlin issued a statement saying that while it must be recognised Mr. Adams led Sinn Féin and the Provisional IRA away from the path of violence towards democratic politics, for his generation he will always be associated with the Troubles. Mr. Howlin added that it now falls now to Mary Lou McDonald to complete the Sinn Féin journey to democratic politics, an issue that the new President addressed in her acceptance speech.
She will be aided in implementing her vision for the future of the party by Michelle O'Neill, who was elected to the role of vice-president.
"Sinn Féin is a growing political force – a national movement for reunification, for social justice and for economic prosperity. We stand for progressive republican politics. We are a party of Government North and South." – @moneillsf pic.twitter.com/2TIuqTGrXI

— Sinn Féin (@sinnfeinireland) February 10, 2018
Featured Image credit @sinnfeinireland