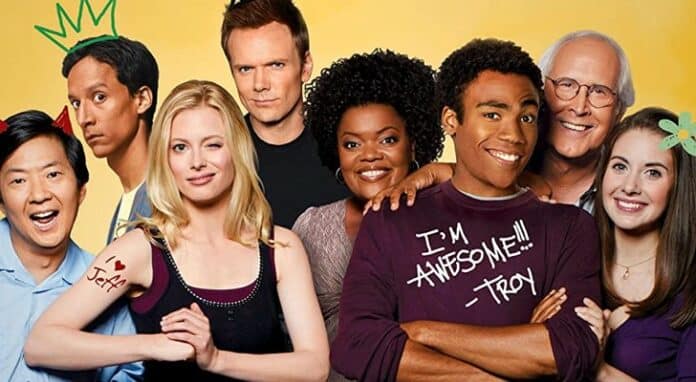 A movie based on the hit comedy series Community has been ordered by US streaming service Peacock seven years after its last season aired.
The Dan Harmon created comedy Community is bringing back original stars Joel McHale, Danny Pudi, Alison Brie, Gillian Jacobs, Jim Rash and Ken Jeong.
Community premiered in 2009 and struggled throughout the course of its run to gain a mainstream audience. NBC had pulled the plug after the fifth season. It found a home for the sixth season on Yahoo! Screen. While it didn't last past this season, it did give hope that they would finally get the long desired "Six Seasons and a movie"
"Six seasons and a movie' started out as a line from Community's early seasons and quickly ignited a passionate fan movement for this iconic, hilarious and cool (cool, cool) NBC comedy," said chairman of entertainment content at NBCUniversal Television and Streaming, Susan Rovner.
"We're incredibly grateful that 15 years later, we are able to deliver fans this promised movie and can't wait to get to work with Dan Harmon, Andrew Guest, Joel McHale, Sony, and our partners at UTV to continue this epic comedy for Peacock audiences."
You've been asking @Communitytv fans, and it's finally time. #sixseasonsandamovieOnPeacock pic.twitter.com/qlXmEDOPG2

— Peacock (@peacock) September 30, 2022
Rumours of a Movie
There have long been rumours that a movie would come. Most recently, Harmon revealed that he pitched a Community movie.
Back in August, Harmon said a Community movie was more of a matter of when rather than if. He told Newsweek: "I have been so careful about [saying] that. It would have been accurate three years ago to say 'it's a matter of when, not if'. The wheels have been in motion for that long.
"The fans that Instagram's every day about Community, how can you tell them, 'yes, it's definitely going to happen, but it may be between one and eight years from now'?" he added. "Which is how the industry works, especially when you factor in pandemics and whatnot.
Community creator Dan Harmon is writing the movie and is also on board as executive producer, but no director has been locked in as yet. McHale, Andrew Guest, Russ Krasnoff, and Gary Foster are also on board as executive producers.