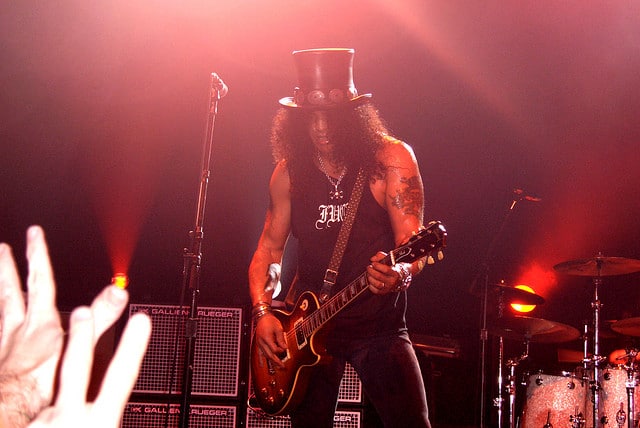 Before his gig at the 3Arena later tonight, guitar god Slash caught up with our very own Marty Miller and Dee Woods on Radio NOVA's Morning Glory.
The rock legend chatted about everything from his new album, his criminal past and the shocking revelation that he might have named his son after the wrong city.
Slash is kicking off his European tour in Dublin tonight and the city is buzzing with excitement. He'll be joined by Myles Kennedy from the group Alter Bridge and the Conspirators.
The black frizzy haired guitarist released his third solo album titled World On Fire on September 15th. It is the second solo record that features Myles Kennedy and the Conspirators.
Speaking about the album, Slash says: "I think it's a real diverse record. I think it's got a lot of gems on it. World on Fire was also recorded live in the studio but there's overdubs and harmonies."
During his chat with Marty and Dee, the rocker describes the live shows as "dynamite" and says the "crowds have been great". He claimed that "I haven't had this much fun in decades".
Marty and Slash then bonded over their love of stealing. The guitarist says when he was broke he "went through a klepto period when he was younger." But has redeemed himself claiming that "whenever i had the chance i paid whoever it was back."
The rocker might have given up his kleptomaniac days, but Marty Miller still suffers from urges. In a stunt that could have seen him being deported from America and thrown on the no-fly-list, our Marty describes helping himself to a sign while in California. On his way to Santa Monica, he stops his car, pulls out a wrench, takes the i-95 sign down, and laughs at the locals as he makes his escape speeding down the highway.
Slash was both appalled and amused, saying "do you know how many people got lost because of that."
The criminal duo concluded their interview with a shocking revelation that Slash's son might have been named after the wrong city. It was revealed that his son named 'London' might have actually been conceived in Dublin. We might have to petition the courts for a name change.
Listen to the full interview with Slash on the Soundcloud link below.