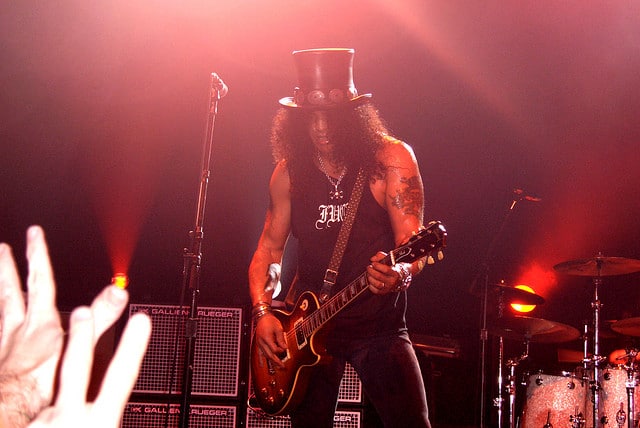 Slash has confirmed that Velvet Revolver are auditioning new vocalists for the band to find a permanent replacement for frontman Scott Weiland.
Velvet Revolver consists of former Guns N' Roses members Slash, Duff McKagan, and Matt Sorum, alongside guitarist Dave Kushner formerly of punk band Wasted Youth.
Stone Temple Pilots singer Scott Weiland left the band in 2008, after announcing to a Scottish crowd that it was the band's last tour. The singer was unaware that the group had already decided to fire him.
Speaking to Radio.com, Slash said, "A lot of people are asking questions, and it's been very active under the radar. I mean, nothing has happened with it as far as getting a new singer, so there's nothing to talk about. But there is activity going on, and there's people that we've been checking out. At some point the right guy's gonna walk in the door, and at that point, then we'll look into making another Velvet record."
"We started working with Scott for that period and we made some cool music, but it was just a really, really hard thing to keep together, that exact lineup. When you're cutting off your nose to spite your face, there's a point there where it's, like, 'You've gotta either get it together or we're not gonna suffer through this.'"

Rumoured replacement singers include, Myles Kennedy from Alter Bridge, due to his ongoing collaborations with Slash, Chester Bennington of Linkin Park, and Sebastian Bach.