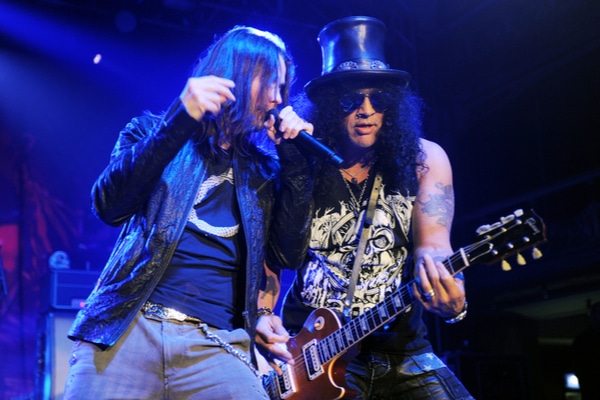 Legendary guitarist, Slash has opened up on the recording process of the new Slash Featuring Myles Kennedy and The Conspirators album, 4. The album is the fifth solo album from Slash, and fourth overall with his band featuring Myles Kennedy, Brent Fitz, Todd Kerns, and Frank Sidoris.
Speaking to HardDrive Radio, Slash explains how "everything was just done live in the studio, and it's very spontaneous". Excited to be apart of something so special, the legendary guitarist screeches, "This is actually the most live I've recorded so far!"
"I've always done the bass, drums and guitars live in the studio — bar none — except for when I do other people's sessions. But in any band that I've worked in, it's always been like that," Slash explains. "But you come back and you do guitars later because you wanna get the right sound and you go into the control room and you do the guitars from there. And a lot of the reason is because you can't have the amps in the room when you're recording the drums; producers hate that, 'cause they don't want it to bleed.
"And I don't give a s***, but I'd never been able to find a producer that could deal with it," Slash added. "So, you just sort of bite the bullet and you do it where you do the guitars later, and vocals are always done after that. This one was done with the amps in the room with the drums and Myles singing all at the same time. So that's how this record was done."
To complete their masterpiece, Slash and the band travelled through the United States to Nashville, Tennessee, to record 4. The latest album has been compiled at the historic RCA Studio A with producer Dave Cobb, who shared the band's ambitious desires. All tracks have been beautifully laid down live in the studio, including guitar solos and vocals — an apparent first for the group.
"The reason I wanted to work with Dave Cobb was because he and I had both had this fantasy about doing a rock and roll record live in the studio, with everybody in the same room at the same time," Slash said. "And when he and I discussed that, he was into doing it. I said, 'Let's do this.' So, that's how we hooked up with Dave Cobb. But we did in this great room, which, with all due respect to every other producer I've ever worked with, this is one of the only rooms where you can get away with having the guitars, the amps and the drums in the same room."
Slash Featuring Myles Kennedy and The Conspirators' new album, 4, is set to release February 11th, 2022, via Gibson Records in partnership with BMG. Meanwhile, the band recently shared their new single, The River Is Rising.