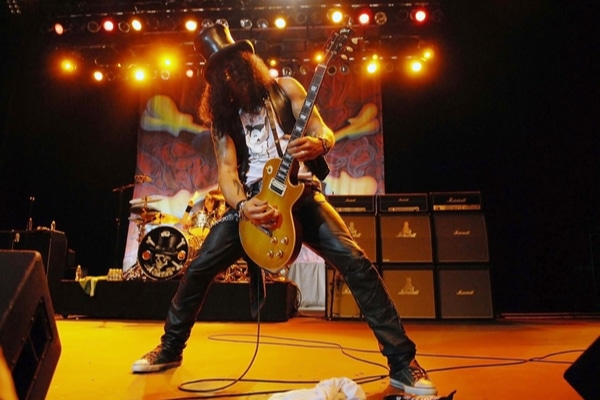 Slash has opened up on what it is like to be back on stage, following time out during the pandemic. Speaking to Germany's Radio Bob!, the legendary Gun 'N' Roses guitarist spoke of what it is like to play for crowds who are "super hungry for live gigs".
"Guns just did a US tour, which was a lot of fun. It was great because you had all these crowds that were super hungry for live gigs," Slash recalls. "And so, it was a very energetic tour. At the same time, [we] also had a lot of intense restrictions.
"We didn't have any kind of after-show guests," Slash reveals, "no guests whatsoever — and we never left the hotel pretty much the entire time. And everybody just had to really keep it together so that we didn't have somebody get sick and have to postpone the tour and all that kind of stuff. But we made it through unscathed. So, it was good."
On October 4th, Slash and Gus 'N' Roses finally concluded the We're F'N Back tour at the Seminole Hard Rock Hotel & Casino in Hollywood, Florida. This followed the run of shows for the band's Not In This Lifetime tour, which – according to Billboard Boxscore – became the third-highest grossing tour ever!
Classic-lineup members such as Slash, Duff McKagan (bass) and Axl Rose (vocals) backed by guitarist Richard Fortus, drummer Frank Ferrer, keyboardist Dizzy Reed, and second keyboardist Melissa Reese, featured in both tours to perform classic tracks from the band's discography.
Meanwhile, Guns fans can indulge in some new, long-awaited music from the band with the upcoming four-song EP, Hard Skool, releasing February 25th. Exclusive to the official Guns 'N' Roses site, the new LP contains both, newly released track Absuяd, and live versions of Don't Cry and, You're Crazy.