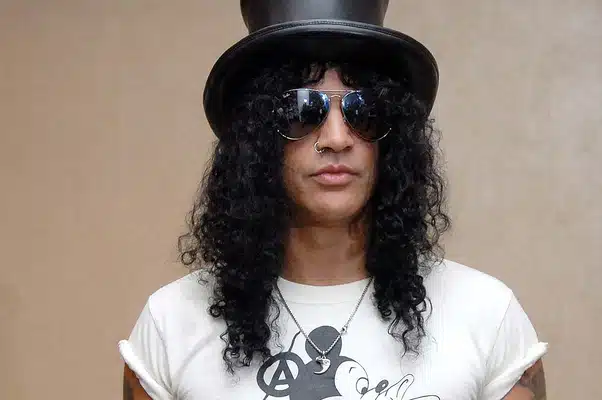 Slash has a collection of over 400 guitars, but one remains his favourite.
"The go-to guitar for me when I'm recording is the same one I've been using since 1987, which is a replica of a 1959 Gibson Les Paul, handmade by the late, great guitar builder, Kris Derrig," the Guns N' Roses guitarist recently revealed. "I recorded Appetite for Destruction with it and I've done pretty much every record with it since. It has a unique tone and personality to it."
Having begun practicing on an acoustic guitar with only one string, Slash's first guitar was a Les Paul, which he paid $150 for.
Since then he's been amassing a collection of guitars, which now numbers "a little bit in excess of 400."
Slash actually began playing bass but switched to guitar after being exposed to groups like The Rolling Stones, Cream and Led Zeppelin. The rest is history, with Slash now considered one of rock's great axe men. Rolling Stone magazine ranked him at number 65 on its list of the 100 greatest guitarists of all time.
The GNR guitarist recently spoke of the influence of Aerosmith on his career.
"There's an Aerosmith song called 'Nobody's Fault' off the Rocks record," he said. "It was one of the songs that when I first picked up the guitar, that was the record, that particular album, the timing of me hearing that record at the time when I heard it had a lot to do with how I ended up where I am."
"[That song] was probably one of the most heavy hard rock songs — very indicative of the '70s and very indicative of Aerosmith at this certain time," he continued. "And it wasn't Black Sabbath heavy, it wasn't 'heavy metal, heavy metal,' but it was still this really hardcore hard rock song. And so I always loved it."
In 2014 Slash expressed his joy at getting to tour with Aerosmith.
"To think that these are the guys that I listened to when I was 14 that basically [created] the record that kept me from getting laid," he joked. "So yeah, it's a little surreal."
In 2019 Slash was asked to name his all time favourite album. Unable to narrow it down to one, he named four albums, but none of them were by Aerosmith. Instead he chose four Rolling Stones albums: Sticky Fingers, Let It Bleed, Beggars Banquet and Exile on Main St.
This Friday, February 25th, sees the release of The Hard Skool EP from Guns N' Roses.
The EP features the recent singles Hard Skool and Absurd, along with live versions of Don't Cry and You're Crazy.