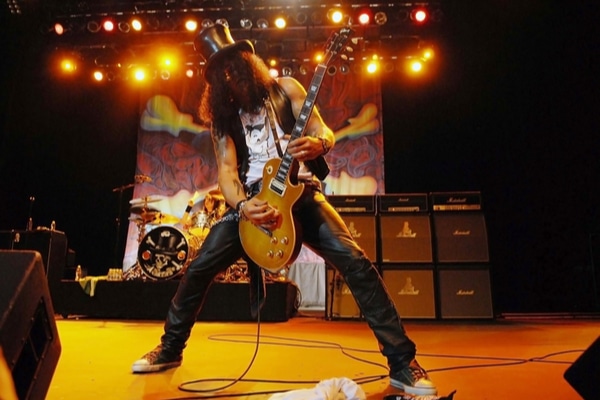 Slash will release a new single "The River Is Rising" with Myles Kennedy and the Conspirators.
The track will be part of the band's new album which will be released via Slash's own label Snakepit Records. It is a follow up to 2018's "Living The Dream". This of course includes bandmates Myles Kennedy, Brent Fitz, Todd Kerns and Frank Sidoris.
Guitarist Frank Sidoris also recently revealed that he was in a "traumatic" car accident. More on that report from Nova here.
"playing in the moment"
Ahead of its arrival on October 22, a 33 second clip was released, teasing a sneak preview.
In the clip, Slash can be heard saying, "This was the first time that we actually did all the guitars, bass and drums live at the same time, and kept all those tracks. And we also did the vocals live as well. So, the record just sounds like the band playing the songs that we came in with, but it's us playing in the moment. And that's what we were going for".
Myles Kennedy can also be heard stating, "This one's pretty much a live record, from my standpoint. You're just trying to kind of document where you are at that point in life, and do it in an authentic way". 
Check out this teaser clip here.
On top of this, Slash also posted a video rehearsing an upcoming Guns N'Roses track, believed to be called "Hard School".
The band may not have performed this track at their Wrigley Park gig, but Slash did reveal via TikTok that they give it a whirl during the soundcheck. More on this here.
Back in July, Slash also celebrated 15 years of sobriety. The rocker had been previously diagnosed with cardiomyopathy due to alcohol abuse.
"An addict who achieves recovery is capable of achieving anything' (wise words someone said). I am so very proud of you every day but today I am so very extra proud of you", his girlfriend Meegan posted on Instagram. More on this report here.