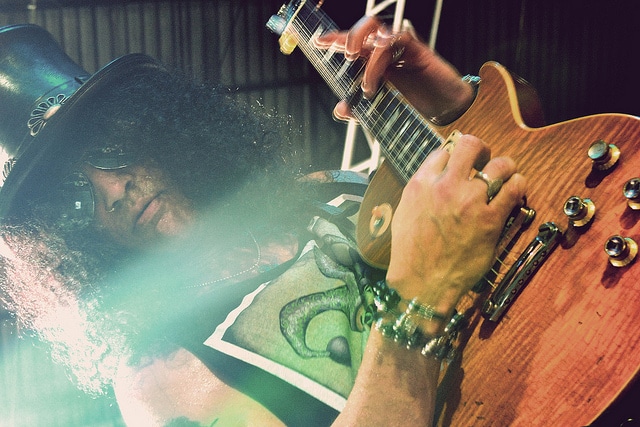 Guns N' Roses Slash once reportedly offered to join the Stone Roses, but his plea was turned down.
Guitarist Aziz Ibrahim, the replacement of Squire following his dramatic 1996 departure, has confirmed the bombshell reason why the Stone Roses turned down Slash. The decision caused quite the debacle with some hoping to "p**s Squire off" by replacing him with "the greatest rock icon of all time". Others ultimately decided that they wouldn't "work with a guy with leather pants".
Ibrahim, best known for his work with Simply Red, also told Stagelift Podcast that "there was a lot of bitterness and anger" making it no surprise that the group eventually split in 1996. It was 15 years until the group reunited in 2011.
However Slash's side of the story begs to differ, in 2010 he told The Guardian, "I'd heard of the Stone Roses, but I'd never met them. I think I was probably too busy in Guns N' Roses at the time. Maybe it might have been a good idea. Someone told me we tried to recruit the lead singer into Velvet Revolver. That's not true either".
Slash recently covered Sir Elton John's 'Rocket Man' while he also paid a surprise visit to the children of the 'School Of Rock' musical.
Photo Credit: ThiagoPiccoli