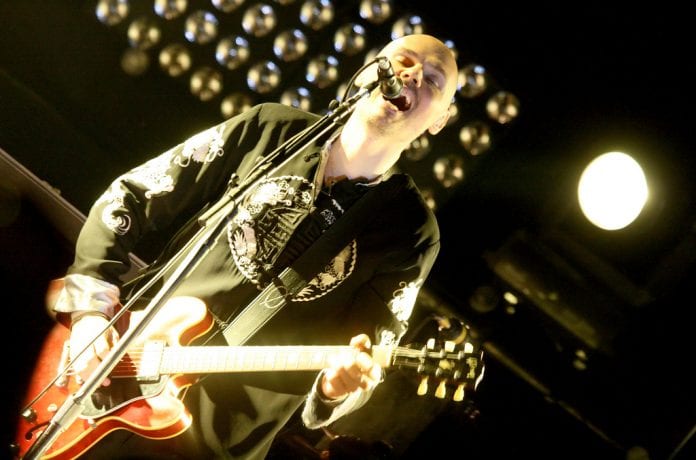 Smashing Pumpkins frontman Billy Corgan is releasing a silent film called 'Pillbox'. This film comes before the release of his upcoming solo album 'Ogilala'.
The film will be shown in movie theaters in LA, London, New York and Chicago next month. Corgan wrote and co-directed the film. A teaser has been released ahead of the film's debut, which features black & white footage of wartime scenes including newsreel footage. Colour footage is also used in the film, showing an 'alternate fantasy universe', with people in facepaint fighting. Corgan's voice can be heard throughout, singing "Life keeps running faster than your stars/ And Cain isn't able to build a superstar" accompanied by piano.
The film stars Harry Holmes, Rai Quartley, Anna Steers, Hardeep Manak, Los Angela and more. Linda Strawberry co-directed the film with Corgan.
Check out the teaser below with our very own Ruth Scott and Conor Irwin in today's Seriously Addictive Music News!
If you're going to be in any of the locations the film is being shown in, you can buy tickets tomorrow, September 22nd at 11am PST. Tickets are available on Ogilala.com. Everyone who attends one of the screenings will receive limited-edition posters.
Pillbox Screenings
October 5 – London, UK @ Royal Society of Arts – Corgan will be appearing
October 9 – Los Angeles, CA @ Los Feliz Theatre – Co-director Linda Strawberry and select cast members will be appearing.
October 11 – Chicago, IL @ Music Box Theatre – Corgan and co-director Linda Strawberry will be attending.
October 12 – New York, NY @ Tribeca Screening Room – Corgan and co-director Linda Strawberry will be attending.
Photo Credit: alejandro jofré